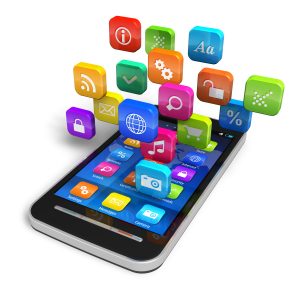 Six in 10 US mobile marketers will increase their mobile app budget this year and 69% will spend more on mobile websites. However, apps will still be a bigger business focus overall, according to February 2017 data from Adobe.
Nearly four in 10 marketers said they will keep their mobile app budget the same, while 29% said they won't change their mobile website budget. Only 2% said they will decrease budgets for either mobile apps or websites.
"These findings suggest that businesses are recognizing mobile is not a single channel," said eMarketer principal analyst Cathy Boyle. "Rather, smartphones and tablets provide access to two channels—mobile websites and apps."
Mobile sites and apps serve different functions from a marketing perspective, which is likely why marketers are increasing investments in both.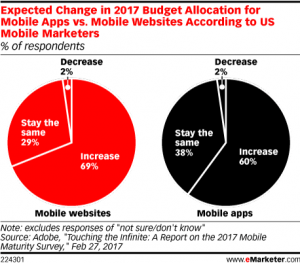 "While the former offers substantial reach because there is little friction in accessing a mobile website, apps offer an opportunity to create a brand presence on the device and give consumers a slicker, potentially more personalized experience that can engender loyalty and drive sales," Boyle said.
She did point out, however, that some verticals and business types may be more likely to have both an app and mobile website than others.
Mobile-first businesses or media companies, for example, are more likely to have mobile apps than CPG companies. Adobe's survey did not break out respondents by industry.
While budgets are growing for both mobile channels, Adobe's research also showed that companies' current mobile efforts are directed more toward mobile apps than websites. Four in 10 marketers said their organization currently prioritizes apps, and 7% reported they are shifting their focus to the channel.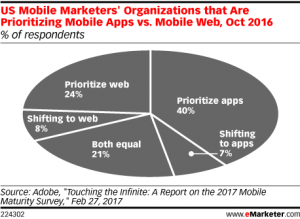 When it comes to websites, only 24% said they prioritize them—though 8% said they're shifting the focus there. Two in 10 indicated that their company prioritizes both equally.
The decision to concentrate on apps is not entirely unexpected. Getting consumers to download apps is a hurdle, but once they're actually downloaded, people spend more time using apps than browsing the mobile web.
eMarketer estimates in-app time made up 85.7% of US smartphone users' average daily time spent going online via the device in 2016, while mobile web accounted for just 14.3%.
Apps also serve a variety of purposes across the organization, and their functions aren't limited to marketing tactics.
Though Adobe found marketers are most likely to use mobile apps for building customer loyalty (69%) and developing brand awareness (63%), marketing teams also rely on apps for sales enablement (45%), boosting employee productivity (25%), driving mcommerce (15%) and field services (10%).
Source: eMarketer