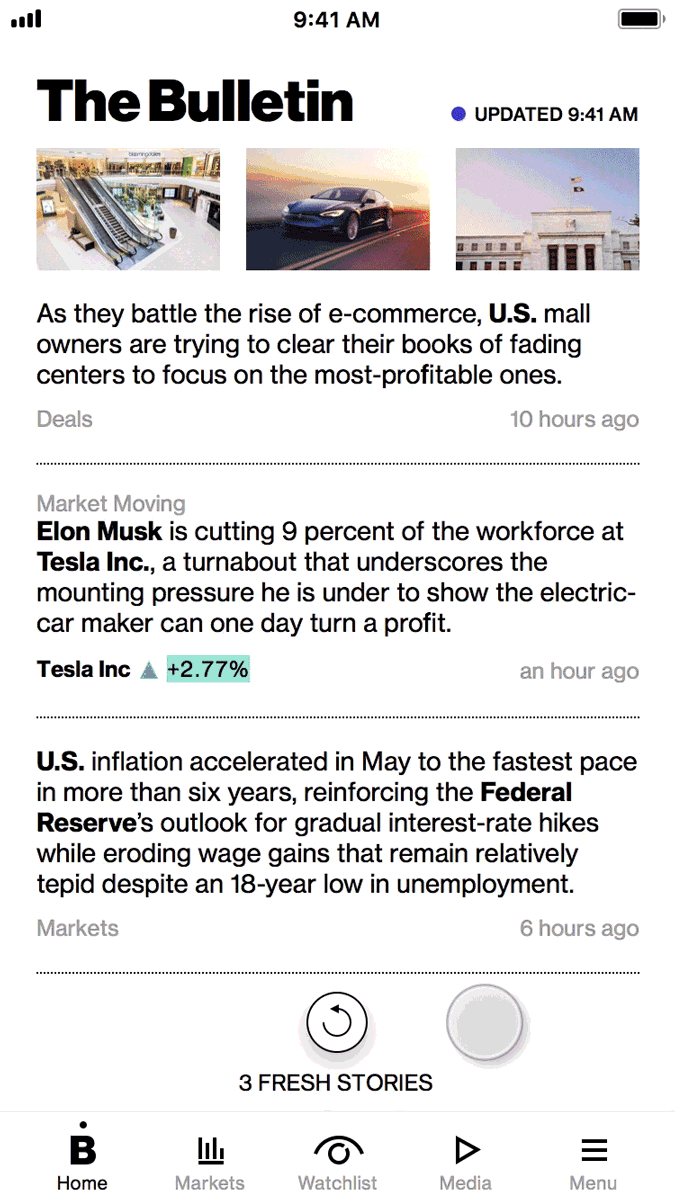 Bloomberg Media's innovation lab, BHIVE, has launched The Bulletin, the latest feature to its mobile app delivering added utility to today's on-the-go professionals. Based on BHIVE's extensive user research on news delivery preferences, the new feature, available on the homepage of the mobile app, makes it easy for users to get a snapshot of the most timely and important news stories of the moment and presents it in a manner that can be read in less than a minute.
The Bulletin provides a summary of the top three stories of the moment, leveraging machine learning and AI technology to generate a single sentence summary of the most important articles within Bloomberg's global news network. The personalised list of content and breaking news refreshes each time the app is opened so users can see a new set of summaries. Users can also tap the refresh button to manually load a new list, and click on the summaries for the full text of the articles.
The Bulletin caters to the micro moments for the busy user, standing in an elevator, in between meetings, in line for lunch, as they increasingly look to their mobile devices in order to feel a sense of being caught up on the latest news developments. It provides users with a sense of completion in quickly learning the latest news of the moment, and a comprehensive summary of the news that goes beyond a headline.
The adaptive AI technology populating The Bulletin instantly mines content from Bloomberg's network of 2,700 journalists and analysts in more than 120 countries to extract only the most salient details and convey the entire story in a single snapshot.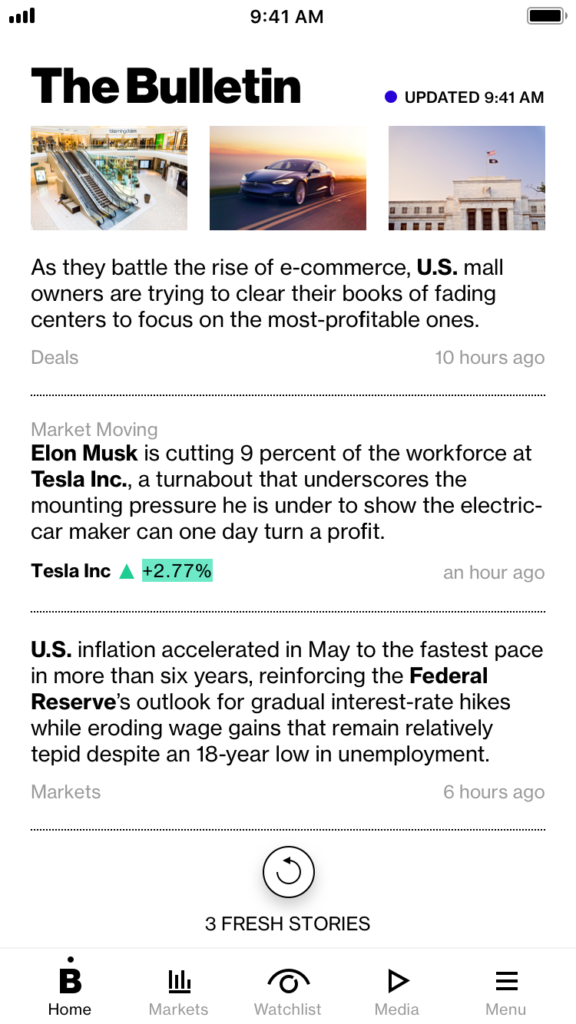 The AI technology leverages natural language processing to scan the full article, moving beyond typical keyword and semantic analysis to understand the true meaning of the article and package it in a way that provides a summary in one sentence that is easy to consume.
The rollout of The Bulletin is part of Bloomberg Media Group's long-term focus on utility and functionality, rethinking how Bloomberg's content is delivered, and making it more essential and useful to our users who are always on-the-go.
BHIVE – Delivering the User Connection
The Bulletin's AI-powered summarisation technology was built completely in-house through an innovation lab called BHIVE.
Created last year, BHIVE is a user research and prototyping group made up of designers, engineers, product developers and researchers to explore new products and test new ideas to enhance the experience for today's digital users. BHIVE explores and tests core business projects that focus on Bloomberg's day-to-day digital product roadmap, based on extensive user research.
The Bulletin is the result of one of the first prototypes created by the BHIVE group, born out of the results of a survey conducted by BHIVE on consumers' news consumption habits.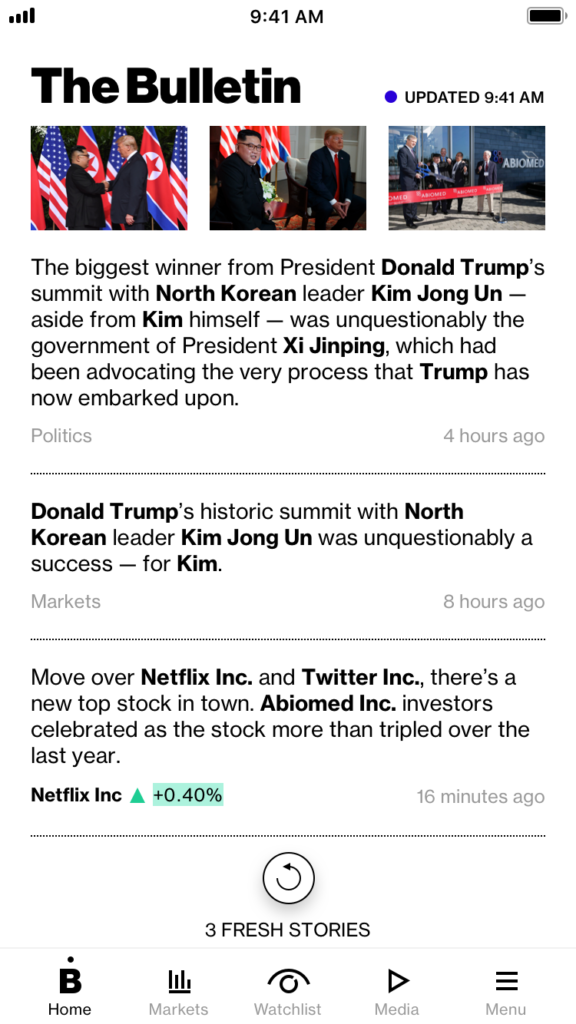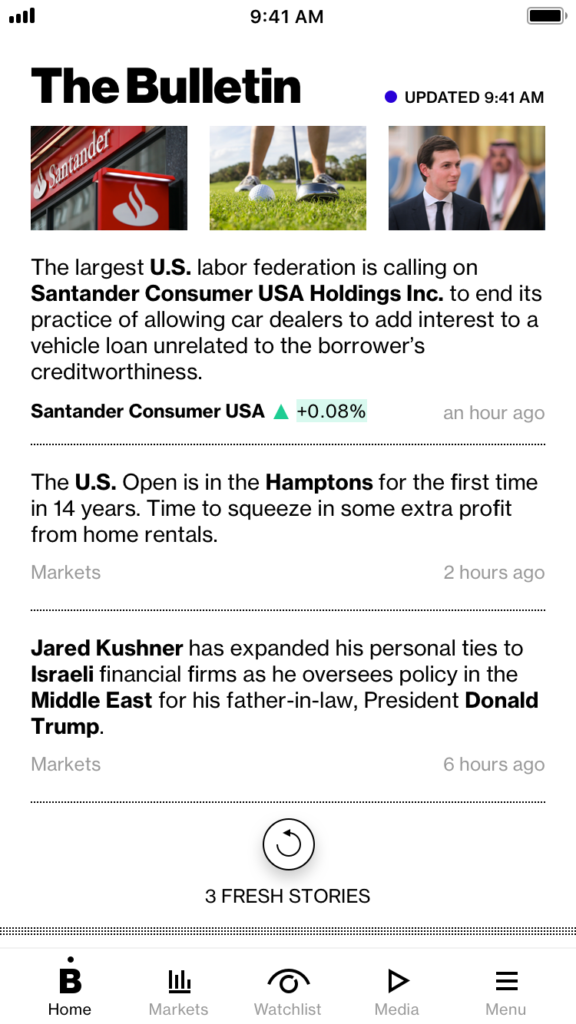 Source: Bloomberg Media