Bench, a consultancy specialising in the selection, implementation, integration and optimisation of data, analytical and marketing technology, has truck a partnership with Equals 3, an IBM Watson cognitive computing partner that develops solutions for marketers.
The partnership means Bench is now a key UK distributor of Lucy, the cognitive companion for marketers, powered by IBM Watson and developed by Equals 3.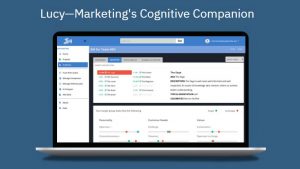 For the first time, UK marketers will be able to benefit from Lucy's unrivalled insights into research, segmentation and planning. Lucy quickly and efficiently analyses structured data, such as databases and spreadsheets, and unstructured data, such as emails and presentations.
Working as an invaluable member of the marketing team, Lucy can hunt down facts about a potential market, pull together customer profiles from social media or draw up media models in moments. She performs previously time-consuming tasks in an instant, empowering marketers to do much more in far less time, and the more she does the more she learns, growing and developing according to a campaign's needs.
Since her launch, Lucy has been successfully adopted by Fortune 1,000 brands and the agencies that serve them. She has also formed partnerships with industry-leading content and research providers such as eMarketer, Dow Jones, Kantar Retail and associations like the American Marketing Association.
Lucy combines multiple computing services from Watson, including Retrieve and Rank, Natural Language Classifier, Personality Insights, a news aggregation service, and Tradeoff Analytics. She is already populated with data from sources such as SEMRush, Spinn3r, SimilarWeb, US Census and Clearbit and can crunch reams of data to answer any marketing question. Her easy to use interface also means that marketers can ask questions in a free text format, simply and directly.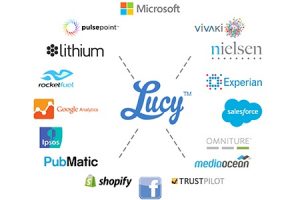 Lucy is available for businesses of all sizes. She can provide support in a variety of ways, from helping clients start their cognitive journey within marketing to being implemented at an enterprise-wide level.
Daniel Telling, Managing Partner at Bench, comments: "We're delighted to be working with Equals 3 to introduce Lucy to the UK. She is the future of market research, segmentation and planning. Acting as a marketing assistant, Lucy quickly and accurately answers any marketing questions, can comb through reams of market research and data and helps plan campaigns and media models quickly and efficiently.
"She can achieve in a day what has previously taken marketing teams a year to plan, bringing together every type of marketing data from PowerPoint presentations to surveys, drawing on the most relevant information. Easy to work with, she uses natural language and learns as she works, continuously evolving and growing to meet the specific needs of a campaign. Lucy really does become an indispensable member of the marketing team."
Scott Litman, Founding and Managing Partner at Equals 3, comments: "Lucy collects, reads and remembers all the marketing data across an entire business to make fast and accurate decisions for campaign planning. A global media agency that added Lucy to new business development pitches – a process that consumed a lot of time in data compilation – finished the job 15 times faster.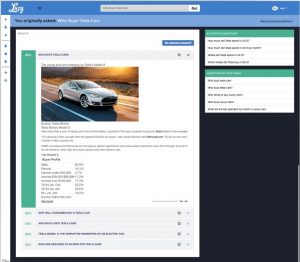 "She is also a segmentation expert and can model and build comprehensive profiles of key target audiences. Lucy is a master strategist at media planning, providing a range of options for the best impact and output.
"Lucy uniquely combines elements of Watson with software specifically designed to create a cognitive companion for marketers and we're delighted to be bringing her to the UK in partnership with Bench. Lucy is changing the way marketers work and how they access data. UK businesses now have the chance to benefit from the first cognitive companion for marketers and they must not miss out!"
Offering ongoing, tailored support, Bench helps many of the world's biggest names in financial services, retail, gaming, automotive and communications to maximise their marketing technology investment, ultimately giving them increased customer insight and competitive advantage. As a 'one stop shop' for all requirements, Bench.
Source: Net Imperative