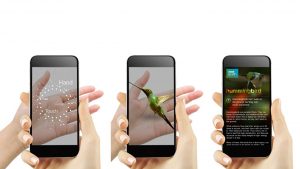 BBC Worldwide has partnered with visual discovery platform Blippar to let people find out more about the content in the Planet Earth II series using augmented reality.
The Planet Earth II series has been a runaway success in the UK, where it debuted, but also in key markets for BBC Worldwide internationally, such as Singapore and Malaysia, where it was shown on the BBC Earth channel.
Julia Nocciolino, VP brands in Asia at BBC Worldwide, said: "The new Planet Earth II promises to give viewers the most immersive wildlife documentary experience to date. With Blippar's unique visual discovery browser, fans will be able to engage and learn more about some of the Earth's most iconic habitats featured in Planet Earth II in a unique way"
To encourage more people in Asia to watch the series, the Blippar experience was launched. It lets people scan certain images within the show using Blippar, which then takes them into an mobile experience to find out more about the items and find additional clips from the show.
BBC Earth also airs Malaysia, Indonesia, Thailand, Hong Kong, Taiwan, South Korea and Vietnam.
BBC Worldwide is also strengthening its ties to key markets in Asia next month using its drama programming. It announced that it will debut the new Sherlock series in Singapore less than 24 hours after it airs in the UK. The business used the new Sherlock series to tease the quiet roll out of the BBC Player subscription service in the country, via its partner StarHub.
Source: The Drum