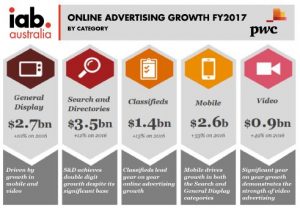 The rapid growth of mobile and video advertising has powered Australia's digital media spend to grow 12% to $7.6 billion in the year to 30 June 2017.
According to PwC and IAB Australia, advertisers now invest about half of their advertising budgets into online media channels with search and directories continuing to take the largest share, up 12% to $3.5 billion in FY17.
The majority of this revenue is invested in market leader Google, although the revenue it booked from ad sales in Australia in 2016 under Multinational Anti-Avoidance Legislation was only $1.2 billion.
Gaining ground on search is mobile advertising with marketers increasing ad spend by 33% to $2.6 billion. This is broken up into 46% spend in search and 54% in display with seven in every ten dollars going towards advertising on smartphones.
Video advertising now accounts for $894.4 million of expenditure, up 50% from FY16. It now makes up 32.9% of general display advertising expenditure, compared to 24.3% in 2016.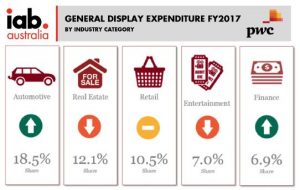 "Digital is now a grown up and established advertising medium and the continued evolution of video and mobile advertising," says Megan Brownlow, editor of PwC's Australian Entertainment and Media Outlook report.
"Video in its own right is approaching a billion dollar business as more brands are realising the benefits of combining the persuasive brand building capabilities of video with the precision targeting that digital affords."
The auto category was once again the number one display category in 2017 and saw the largest year-on-year growth, increasing from 17% percent of category share in 2016 to 18.5% in 2017. Automotive, real estate and retail, account for 41.1% of the general display advertising market.
Source: Ad News