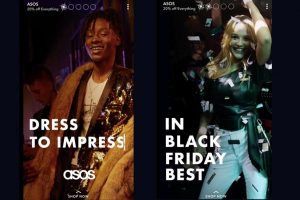 Asos is among the first brand to toy with Snapchat's new Promoted Stories feature, released November 24, which the messaging app has touted as a way for advertisers "tell deeper stories".
The format has opened up Snapchat's most popular user feature to brands, letting them string together images and videos which disappear within 24 hours of being live.
In the UK and France, Asos used its first promoted story to push Black Friday shopping deals. In the US, HBO promoted a story highlighting the reasons customers should stay inside on Black Friday, linking through to free episodes of Game of Thrones, Insecure and Westworld.
This branded content is served between Stories from users' friends, and when they 'swipe up' on Promoted Story Snapchatters are directed to a website, article, or app install.
It works in much the same way as arch rival Instagram's offering, which launched its own branded Stories in 2016.
Content posted to Snapchat Promoted Stories is automatically labelled as paid-for content, with text saying 'Ad' overlayed in a manner similar to Instagram's 'Sponsored' Stories badge.
The slots can currently purchased as one-day takeovers by country, and could help offset the $443 net loss reported by Snap in its most recent quarterly earnings update.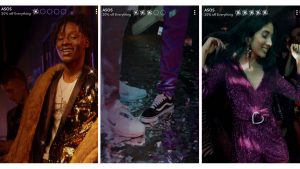 For brand, it's promised that Promoted Stories will give them a new way to reach its reported 178 million users on top of more interactive formats like Lenses, and standard vertical video ads.
Asos, also a launch partner for Instagram Stories, has been experimenting with different tech this year to engage customers including its own visual search tool and a Christmas chatbot.
Peter Sells, director for revenue product at the Venice Beach-based firm said: "Our advertising partners have been asking for ways to tell deeper stories on mobile. Promoted Stories offer marketers access to the same Stories format used by our community, combined with the reach and placement enjoyed by publishers on the app."
Recently, Snap invested in new 'augmented trial' Lens technology. The AR tool lets customers interact with products in real-world settings before they buy them, with BMW being the first brand to trial it.
Given Snap's heavy emphasis on the camera, it's likely it wants advertisers to use stories as part of a wider campaign on the platform, rather than as a standalone format.
Source: The Drum