The UK's leading stock brand Knorr launches 'Eat Your Feed', a tool that analyses your Instagram feed and serves up a personalised selection of recipes based on your experiences. Eat Your Feed was created by digital creative agency AnalogFolk.
Life is all about new experiences and discovering unique flavours is a big part of that. Knorr has the power to transform every day dishes by adding richer flavour, easily. By doing this, Knorr allows people to experiment knowing that it will taste delicious.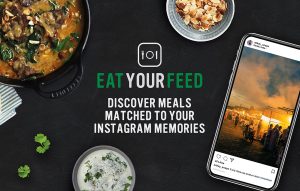 But where can you get your inspiration to be more adventurous in the kitchen? Look no further than consumer's own Instagram feeds, the number one platform for curated visual experiences.
Eat Your Feed enables consumers to discover personalised, relevant one-pot recipes – each full of rich flavour – we know they will love because they're based on their own lives. Whether it's hiking Machu Picchu, rocking out at Wilderness with the kids, holidaying in Greece, or eating your way through the latest pop ups, Eat Your Feed will reveal personalised recipes that match their experiences. Last month's snowboarding action shot in the Italian Alps could inspire the cardio boosting One Pot Mushroom Ragout with Fusilli and Spinach.
Simply connect using your Instagram account and the Eat Your Feed bespoke technology suggests recipes personalised to your feed. The clever tech tackles mid-week meal boredom, and transforms the dinner table in to an exciting place to turn memories into meals. Accessible on mobile, desktop or tablet, the tool suggests recipe ideas along with ingredients and cooking methods to create quick and tasty meals in the comfort of your own home. You can save the recipes, or with a few clicks add the ingredients to your shopping basket.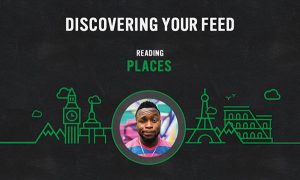 Philippa Atkinson, Senior Brand Manager Knorr UK & Ireland explains: "Eat Your Feed is an innovative concept that showcases the transformative power of Knorr stocks to a new younger generation, adding twists to their favourite recipes or discovering new ones. We're excited to be the first Instagram inspired recipe solution – using our consumers' own posts to prompt recipes with real value and relevance we know they'll love, as well as a reminder of the great adventures they've had in the past."
Creative digital agency AnalogFolk made Eat Your Feed possible by turning data from the Instagram post into a matching recipe from the Knorr recipe database. AnalogFolk used visual recognition and individual image data to build a bespoke AI algorithm, and trained it to understand posts and match to the perfect recipe.
Each Instagram image holds a very rich source of information. Every image has data that contains the time it was submitted, potentially a geolocation if the user added it and, of course, the caption. The location provides the city and country name, and the caption, containing phrases and keywords, supplies context.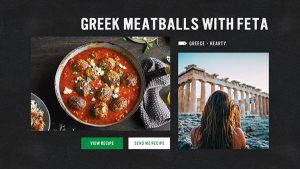 For the image itself AnalogFolk incorporated The IBM Watson Visual Recognition service to identify the scenes and objects in the picture for example Nature, Beach, Lake, Snowboard, Dog etc. The result, behind each image we have a rich list of keywords that a bespoke prioritising algorithm scores and assigns the perfect match.
The Eat Your Feed tool will be supported by the World's first Instagram powered restaurant, created by Knorr's PR agency W Communications, where traditional menus will be scrapped and instead; diners will be served meals matched to their Instagram feeds.
The one-of-a-kind dining experience, taking place on Wednesday 11th April, lets diners discover personalised dishes based on their own experiences in a live restaurant. Once the technology has analysed each diner's feed, it will then share personalised recipe suggestions with the Jones & Sons restaurant kitchen. The innovative dishes served at the restaurant will be full of rich flavour with each meal matching a special memory captured on Instagram.
Source: AnalogFolk