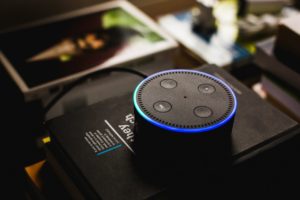 Amazon has inked a deal with the NHS that will see it's AI-powered voice assistant Alexa be used to offer health advice for patients who can't easily access information online.
The move, which follows on from a push into the healthcare space in the US from the business, has sparked concern among privacy campaigners.
Starting in July, devices like the Amazon Echo and Amazon Echo Dot will be able to relay information from the NHS website when UK users ask health-related questions about minor ailments.
The government claims the move will ease pressure on the NHS and be of particular benefit to vulnerable patients, such as elderly people and those who are visually impaired.
The tie-up means Amazon's algorithms will pull in data from the NHS site to provide answers to questions like: 'Alexa, how do I treat a migraine?'; 'Alexa, what are the symptoms of flu?'; and 'Alexa what are the symptoms of chickenpox?'
Earlier this year, the government set up a unit dubbed 'NHSX' to boost the health service's digital prowess. Headed up by former government digital policy chief Matthew Gould, NHSX is tasked with taking forward digital transformation in the NHS, allowing patients and staff to benefit from the latest digital systems and technology.
The deal with Amazon signals the first big play from the newly-created division from the Department of Health. However, some commentators have expressed concerns around the way Amazon will handle potentially sensitive data from patients.
Among them was civil liberty group Big Brother Watch, with director Silkie Carlo telling the BBC the Amazon collaboration was an "awful plan" and a "breathtaking waste", urging that investment should instead be funnelled into frontline services.
"Healthcare is made inaccessible when trust and privacy is stripped away, and that's what this terrible plan would do," she added.
For its part, Amazon has said that all information will be kept confidential. The NHS will not be equipping patients with Amazon Echo devices. Instead, it is pointing them towards the free Alexa app which offers the same Skill.
In the US, the company has been building out its health offering, with CNBC reporting that it is already selling medical supplies and equipment to clinics and hospitals. On the voice side, it has also worked with pharmaceutical giant Merck, challenging developers to create Alexa Skills to help people with diabetes manage their condition.
Leaked documents published last year suggested the company was building a 'health and wellness' team within its Alexa voice assistant division in the US, but Amazon declined to comment.
Commenting on the Alexa-NHS tie-up, NHSX chief exec Gould said: "The public need to be able to get reliable information about their health easily and in ways they actually use. By working closely with Amazon and other tech companies, big and small, we can ensure that the millions of users looking for health information every day can get simple, validated advice at the touch of a button or voice command. Part of our mission at NHSX is to give citizens the tools to access services and information directly, and partnerships such as this are an important part of achieving this."
Source: The Drum