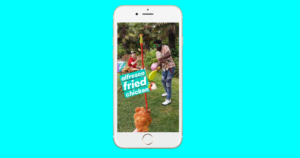 Facebook is rolling out ads globally within its ephemeral Stories service, with Deliveroo, Pure Gym, TransferWise and KFC among the first brands to invest in the format.
Facebook has been testing ads in Stories since April – which lets people upload pictures and videos that disappear within 24-hours. According to Facebook, some 300 million people tune into Facebook Stories daily.
Now it's monetising the feature having courted a handful of advertisers.
The move follows on from the popularity of Instagram Stories, which has now become a staple on brands' media plans, but Facebook doesn't seem worried about the sister app having to compete for eyeballs.
Instagram Stories boasts a bigger 400 million user count, but Facebook appears to think the two can compliment each other, saying it commissioned an Ipsos study which found that 68% of people use a 'stories' type feature on 'at least three apps regularly'.
A further 63% said they planned to use stories services more in the future.
Snapchat, the pair's closest rival and the platform that kickstarted the Stories trend, has around 181 million daily users.
Facebook's latest play will open up further inventory for advertisers away from its news feed, where it's running out of space. Brands will have access to the same tools they do on Instagram Stories, with the ability to buy against reach, brand awareness, views, app-install and more.
Instagram Stories recently unveiled shoppable ads, and while it doesn't look like this format will be available on Facebook yet. They said its own research showed that 34% of people exposed to a product or service in a Stories ad were more likely to go into a store and look for it afterwards.
Since its launch in 2016, Instagram Stories has successfully wooed advertisers. A recent Merkle study found that ad spend on it was growing at four-times the rate of investment in Facebook ads — with brands' Instagram spend up 177% year-on-year during Q2 of 2018 compared to Facebook's 40% increase.
The likes of ASOS have lauded it as a top marketing platform, while others are inking 'Stories-only' deals with influencers. Publishers like Condé Nast are seeing similar results in terms of traffic being driven via the platform.
However, recently Instagram found itself in hot water after a Business Insider investigation uncovered disturbing content on its TV service, IGTV. While the long-form platform doesn't yet cater to advertisers, the controversy did raise wider questions about Instagram's moderation policies.
Source: The Drum