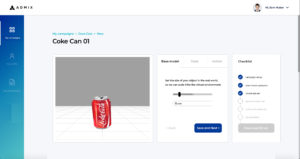 Admix, a monetisation platform for Extended Reality (XR), announced the launch of the world's first programmatic 3D ads for extended reality environments like VR and AR.
Advertisers are now able to feature their products in 3D environments, enabling consumers to interact with those products natively within a game, VR or AR experience. For instance, a consumer can 'pick up' a can of Coca-Cola or a Domino's pizza within the 3D environment.
This world first will enable advertisers to benefit from the next generation of non-intrusive advertising, with early tests showing engagement with 3D ads is 20x higher than web ads. Over 100 brands are already buying their ads across Admix's standard XR display inventory, including National Geographic, Uber, Amazon and Universal.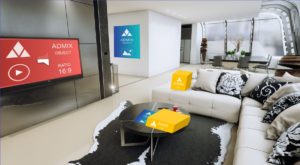 Over 100,000 developers are now building for VR and AR. With the new Oculus Quest, launched May 2019, and the promise of affordable AR headsets being widely available in 2020, the market is at inflection point. Within the next decade, 95% of millennial and Gen Z consumers will access XR content daily.
Sam Huber, CEO, Admix said: "3D ad product placements are the ultimate next generation ad experience. Historically, advertising has adapted to each new media platform. Flat content will progressively be replaced by spatial content that we consume through headsets or glasses. 3D ads offer brands the opportunity to become part of the story instead of being an annoyance to consumers. Users are never forced to interact with them, but if they want to engage, it becomes experiential marketing providing the choice to learn about a product."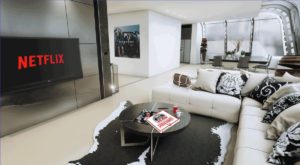 Advertisers will be able to buy these 3D ads, which will shortly become shoppable, programmatically on Admix's supply side platform (SSP) via demand side platforms including Verizon and Pubmatic.
The ads will render in the app inventory created through the Admix software development kit (SDK). To create the 3D ads, Admix has built a studio where brands can turn any 3D model into an ad compatible with Admix 3D inventory. Alternatively, Admix can build the 3D creative from scratch. The studio also enables advertisers to assign actions to the model and add their own trackers, so they can run 3D ads directly from their own demand side platform.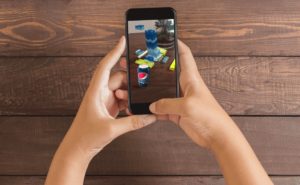 The 3D ads can also be wrapped into a container to be served in traditional display inventory on the web or mobile web, which gives campaigns a larger reach.
Admix, which raised $2.4M in 2018 in a round led by Speedinvest, launched in October 2018, offering an SSP for brands to buy ads across its unique virtual reality, augmented reality, e-sport and gaming inventory. It sells this inventory to large demand platforms such as Verizon or Pubmatic.
Its SDK has been installed in 250 applications to date, and the company is on track to reach 1bn monthly ad requests by the end of the year. As the market grows, Admix is positioning itself building a business model enabling creators to grow the supporting ecosystem and advertisers to interact with consumers in new exciting ways.
Source: Admix