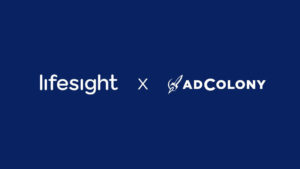 AdColony, the mobile performance marketplace, is excited to announce a partnership with Lifesight, the premier consumer intelligence provider in Asia-Pacific. Through the partnership, advertising will be able to combine AdColony's award-winning creative and behavioural targeting expertise with Lifesight's top-of-the-line retail footfall data. The companies predict this will result in significant advantages for advertisers within the region.
As brands diversify their advertising portfolios to reach consumers where they're actually spending time, mobile devices continue to accelerate in importance. While location data has been applied to mobile display advertising for years, the opportunity to layer rich location data to high-impact mobile video formats is an opportunity for marketers in APAC like never before.
The branding power of sight, sound, and motion in premium apps, combined with robust insights into consumers' physical-world behaviour to create pull-through, provides new ways for retail, automotive, CPG and other brands to drive action and engage with prospective customers at scale.
"Lifesight is delivering an innovative solution in harnessing physical-world data at scale for the APAC region," said Tom Simpson, AdColony's vice president of brand and exchange APAC, "Their location data will enable advertisers working with AdColony to truly see the impact their campaigns have within the region, driving consumers and moving the needle in a measurable, transparent way."
"With the growth of programmatic and video, technology platforms must work together to deliver what new age marketers demand," said Tobin Thomas, co-founder, and CEO of Lifesight, "One such demand is taking campaign success metrics beyond the click and getting more visibility on how it impacts physical store visits. We are excited that leading mobile advertising players like AdColony are at the forefront of driving this change and we are pleased to be powering it."
Source: AdColony