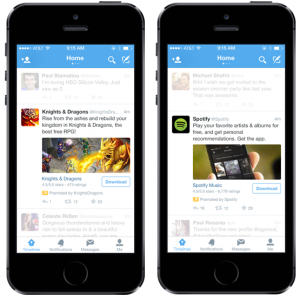 Facebook is not the only social media platform that's seeing great results for mobile advertising revenue.
Rival Twitter recently announced that a majority of its total advertising revenue came from mobile in the last quarter.
Despite Twitter's overall revenue of $602 million missing analyst expectations for Q2 2016, ad revenue was up 18% at $535 million. Shares tumbled 9% after results were announced.
Mobile advertising revenue on Twitter accounted for 89% of total ad revenue. That's $476.15 million for mobile, proving that brands and advertisers are increasingly turning to the format and are now investing more of their spending into mobile.
In terms of percentage, Twitter's mobile ad revenue isn't far off from Facebook's. The social media network just released Q2 results and found that ads on mobile devices accounted for 84% of Facebook's $6.2 billion advertising sales.
Monthly active users totalled 313 million on Twitter, up 3% from the year over.
In a trading's post, the company said that advertising demand was in line with expectations. However, the firm acknowledged that it had some work to do to win bigger marketing budgets. Premium mobile video could be one such avenue for Twitter.
Product innovations and changes can also help push organic growth and make advertising more relevant for advertisers and consumers alike.
Source: Moby Affiliates