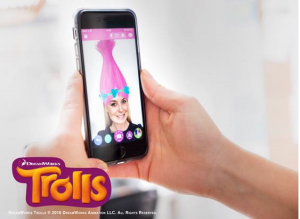 AR firm Zappar has partnered with DreamWorks Animation to bring to life characters from the animated feature film Trolls for Tesco UK.
The campaign launched on 21 October to tie in with the release of the movie in UK cinemas. It enables shoppers to explore Tesco stores nationwide with their smartphone or tablet to find Trolls characters and unlock augmented reality experiences. Using the Zappar app, shoppers can track down the Trolls both on point-of-sale as well as participating products, including the official film soundtrack, Hovis, Tesco F&F clothing and character cake maker, Greencore.
10 different interactive experiences have been created by Zappar, ranging from helping Trolls character Poppy cheer up Branch; a 'Paint a bug!' activity; and the ability for customers to style themselves with the Trolls signature colourful hair, using Zappar's 'face-finder' technology.
Tying-in with the Trolls story-line of Poppy's love of scrapbooking, shoppers are tasked with completing their own photo-frame by finding Trolls characters across the store. The frame starts with both Poppy and Branch filled in, leaving 10 additional characters to find and collect, to complete the frame.
Caspar Thykier, Co-Founder & CEO at Zappar commented: "Trolls have captured children's imaginations for decades, and the latest film does exactly that, so we naturally jumped at the chance to bring the movie to life even further. Working with DreamWorks Animation to create interactive AR experiences for Tesco stores has been great fun and we're sure Trolls fans will really enjoy them."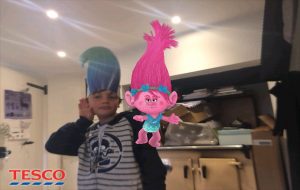 Jonathan Baker, DreamWorks Animation, Consumer Products added: "Trolls is a film about finding your happy place, no matter who you are or how old you are. Much like these augmented reality experiences, which make you smile and bring stories to life in the palm of your hand."
"By working in collaboration with our partners at DreamWorks Animation and Zappar, we have been able to create a unique experience for our customers," said Rachel Wakley, head of licensing for Tesco UK. "We're really excited to see their engagement with the Trolls, both in-store and digitally, and really believe that this additional content offers great entertainment and enjoyment for all of the family."
Source: Mobile Marketing Magazine