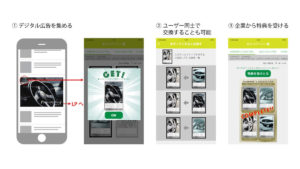 Emerging technologies such as blockchain, AI, and big data are driving development and innovation in the advertising industry.
Japanese advertising giant Hakuhodo released a message on their official website on January 31, indicating the company would now be working with a Chinese blockchain technology service provider, Yuanben, and a famous Japanese company United, to develop a new form of digital advertising based on the blockchain business model, Collectable AD.
In a recent industry report, GroupM, the world's largest advertising media group, lowered the global advertising growth forecast for 2018 from -0.4% to -0.8%. The reason for the lower-than-expected growth rate of the industry is that apart from the impact of the global economy, advertisers' doubts about the effectiveness of delivery are contributing to reduced advertising budgets.
According to statistics, "ineffective traffic" in digital advertising in the first half of 2018 accounted for 28.8%. Fast-moving consumer giant P&G has said advertising industry lacks uniform standards on how to evaluate the quality of advertising traffic, and hopes new technologies will help rekindle the industry.
In this innovative model, consumers are no longer just passive recipients of advertising, but participate in its spread and circulation. By gamifying the process, the platform enables users to read, actively collect and exchange designated digital advertisements, complete preset tasks, and obtain various promotional offers and rewards provided by advertisers.
Collectable AD uses blockchain technology to convert advertising on news and media websites to transferrable digital assets, shared by the users. Consumers are not only shown relevant and interactive advertisements, but are also rewarded for their participation.
"The blockchain can quickly and securely confirm the ownership of digital advertising assets and ensure the transfer of ownership is transparent and unable to be tampered with," said Yuanben blockchain CTO Ganlu. "As advertising platform traffic and user bases grow, digital ads are able to be freely shared and re-shared amongst consumers much like in a card game; this in turn helps to solve the problem of inappropriate advertising. Meanwhile, the private computing and zero-knowledge proof technology may also become the key to solving the traffic fraud problem and create more value for advertisers."
Yuanben blockchain is the world's leading enterprise-level blockchain service provider, providing trusted data intelligence services to enterprises. Partners and client groups include Internet courts, media organisations, advertising groups, copyright societies, logistics firms, mobile devices and more. Since its inception in 2016, the company has been committed to building a "blockchain+" trusted business infrastructure ecosystem.
In 2016, the "13th Five-Year Plan" issued by the State Council of the PRC promoted the development of blockchain in China. It was during this time that the first batch of start-up tech companies such as Yuanben blockchain emerged. As of last year, Internet giants such as Baidu, Alibaba, and Tencent have also entered the market and laid out their plans for blockchain integration.
"As the first batch of pioneers to enter the blockchain industry, we believe the outside world's understanding of the industry is a catalyst to promote development and work towards integration and adoption. The entry of Internet giants is positive for the industry, adding reputability and recognition to this emerging technology," Wu Peng, Yuanben blockchain CEO.
"But there are still too few innovative blockchain application models." Wu Peng pointed out: "Collectable AD addresses a specific pain point for the advertising industry in its current state and  represents a product created after deep exploration of the advertising industry business models. We hope through this cooperation we can contribute to the innovative model of 'blockchain+,' something that is really conducive to the development of the advertising industry."
Source: Yuanben