Samsung Electronics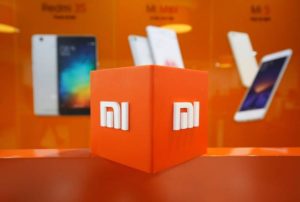 has lost its crown as the top smartphone seller in India for the first time in six years, as it was outsold by China's Xiaomi in the final quarter of 2017, data from two tech research firms shows.
Xiaomi's aggressively priced suite of high-spec handsets and market expansion strategy enabled it to take the top spot in the world's biggest smartphone market after China, said Tarun Pathak of Counterpoint Research.
The Chinese company, which is exploring a public listing and is now valued at close to $100 billion, entered India just over three years ago.
Its strategy there has so far rested on flash sales on leading homegrown e-commerce player Flipkart and U.S. tech giant Amazon's Indian site, an approach that helped it snatch market share without having to spend heavily on marketing.
Counterpoint pegged Xiaomi's smartphone market share in India at 25% in the fourth quarter based on shipments, ahead of Samsung's 23%. Lenovo, Oppo, and Vivo came in behind them, each with about 6% market share.
However, it ranked Samsung as the top seller for the year as the South Korean company was well ahead of Xiaomi in the first half of 2017.
Separately, research firm Canalys said Xiaomi shipped 8.2 million smartphones in the fourth quarter, while Samsung shipped 7.3 million.
"Multiple factors have contributed to Xiaomi's growth, but the key reason for its current success lies in the autonomy that it granted its Indian unit, letting it run the business locally," said Canalys analyst Ishan Dutt.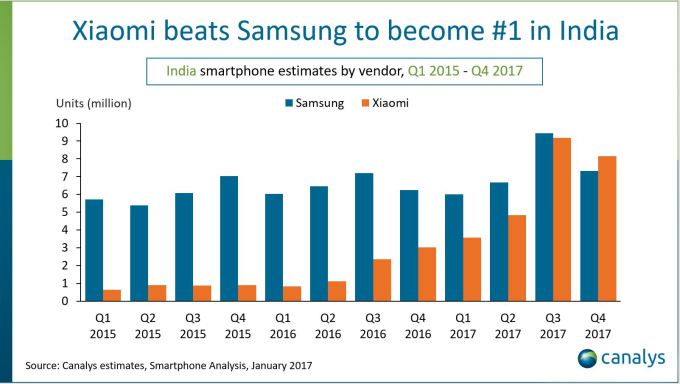 Canalys estimates Xiaomi has 27% of the Indian market while Samsung is on 25%. "Samsung's loss comes from its inability to transform its low-cost product portfolio," said Rushabh Doshi of Canalys.
The South Korean company has been unable to win over cost-conscious buyers, thereby losing market share in the sub-15,000 rupee ($235) segment to Xiaomi quarter after quarter, he said.
Source: ET Tech