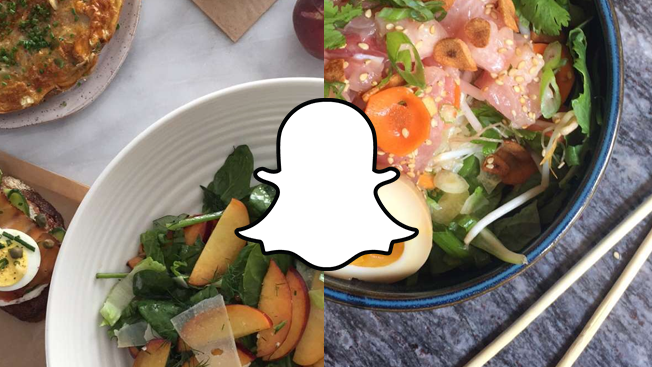 Instagram's long-awaited algorithm has finally started rolling out, and food influencers and sites that built
their brands on the Facebook-owned app are already feeling the squeeze and moving to Snapchat.
Food photography—think pictures of perfectly-styled plates and overhead shots of meals—has long been one of the most popular categories on Instagram. Now that Instagram is stepping up its advertising and video efforts (the platform claims that it has more than 200,000 monthly advertisers) creators that have amassed large and active followers are having a tougher time standing out.
"As Instagram has really slowed down the last four months or so, you can just see what's happened on that platform and it's obviously changing a lot," said Andrew Steinthal, co-founder of The Infatuation, a restaurant review site that's heavily leaned on Instagram to build a following since launching in 2009.
"Our entire audience is on Snapchat now—it's the most reactive social network that we have. You can just see the impact on Snapchat and feel it right away right now. People are so deep into Snapchat and reacting to it."
Steinthal said that The Infatuation has been on Snapchat for about a year, but has only recently started ramping up its social content for the app. Unlike its work on Instagram that has relied heavily on user-generated photos, Snapchat is proving to be a more laborious platform.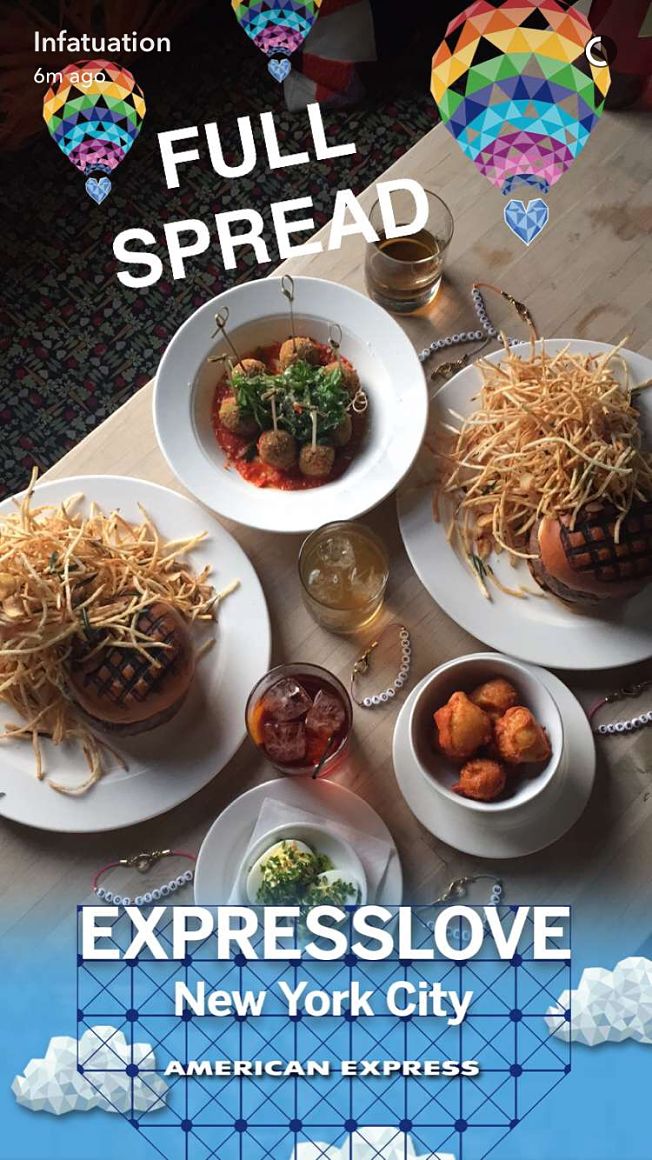 "It's so much work to populate a Snapchat account with good content," Steinthal said. "Whereas on Instagram, you can populate with really good user-generated content, Snapchat is all original. To be good at Snapchat is hard and takes a lot of planning, execution and coordination."
For example, The Infatuation built a following on Instagram several years ago by encouraging foodies to tag their posts with the popular hashtag #EEEEEATS. More than 3.3 million Instagram posts have now been tagged with the #EEEEEATS hashtag, and The Infatuation is now working on creating similar viral tactics on Snapchat.
Revenue is movi
ng to Snapchat for The Infatuation, too. The site has created sponsored Snapchat stories for brands including Budweiser and American Express, and it will launch a campaign for Nestlé's chocolate brand Damak at an event in New York this week.
As part of its Pride Day campaign last week, The Infatuation partnered with American Express for an event at New York restaurant The Spotted Pig, creating location-based Snapchat filters that attendees could add to their photos.
"For the most part, if you're buying a package from us, there's going to be a Snapchat story included," Steinthal said.
New York-based account Devour Power also usually throws sponsored Snaps into ad packages. "Say a restaurant wants to gain exposure and contacts us—we then reply with different packages we offer and we'll go in and snap the experience so our followers can have an idea [about] what the place and food is like on top of seeing the photo on Instagram," said Rebecca West, who runs the account with Greg Remmy.
Alexa Mehraban, who runs the popular EatingNYC Instagram account, regularly tags her Instagram posts with her Snapchat account and encourages her 199,000 fans to follow her on there. "The platform provides so much more depth than Instagram," she said, particularly for off-the-cuff and behind-the-scenes content that shows her fans her personality rather than just photos and videos of food.
Branded content is a slippery slope on Snapchat though. Mehraban said the app is "still a pretty grey area"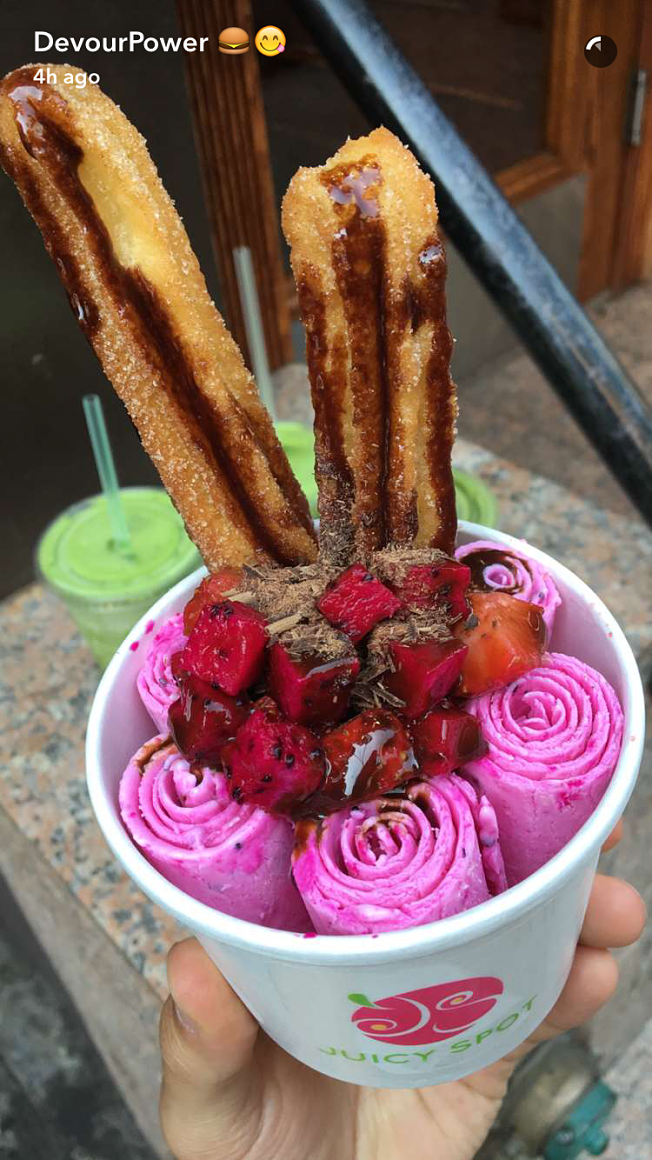 in terms of abiding to the Federal Trade Commission's guidelines that require influencers to disclose and label content as sponsored when they are paid by a brand.
Mehraban said when she works with brands to create Instagram content, there's typically a contract and legal forms included, but she hasn't worked with advertisers on Snapchat yet.
That's not to say that brands aren't able to plug their products through influencers' Snapchat accounts though. In lieu of running a full-blown campaign on Instagram, Mehraban sometimes offers brands a bit of product placement in her snaps.
"A lot of times people want to send things for delivery and to be featured on Instagram—that's something that I don't always want to do because for me it takes a lot of time," Mehraban said. "I'll say to them, 'I'll be happy to feature it on Snapchat if you want some kind of promotion.' Brands are usually fine with that. It's a lot of trial and error and seeing what works."
Jackie Gebel, who counts 189,000 followers through the No Leftovers Food & Travel Instagram account, has also worked brands' products into her Snapchat stories without doing a formal campaign.
"If a brand wants to send products for a post, I can't say yes to everybody because it's too much branded content and I don't do much sponsored content anyway," she said. "I cook a lot on Snapchat way more than I do cooking stuff on Instagram, so I'll show the ingredients that I'm using."
Gebel added that she doesn't know how many followers she has on Snapchat, but said that she's averaging a little over 5,000 views per story.
"I spend more of my time contributing content to Snapchat than Instagram," Gebel said. "I have way more followers on Instagram, but I think it's so much more personal. People who watch my Snapchat stories aren't just followers—they're really engaging with me and care about what I'm doing in my day-to-day life."
Source: Adweek