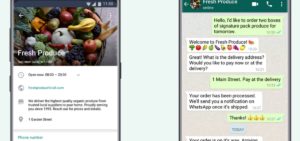 WhatsApp has finally begun monetising its platform with the launch of its first money-making enterprise product – it's first revenue stream since dropping the subscription fees from the app that nobody seemed to pay.
Following the introduction of its business messaging features and its dedicated business app, the Facebook-owned messaging platform now give businesses the opportunity to provide information and services, like shipping confirmation or boarding passes, to customers via the business platform. However, businesses will still only be able to message people who have contacted them first via their website, app, or in store.
In replying to customers requests, businesses may be charged between 0.5 cents and nine cents, depending on the country which the user is based in. Although, if businesses respond to customers within 24 hours, they will be able to do so for free.
As with other messages sent between parties on the messaging app, all correspondence will be end-to-end encrypted. And users can block a business the same way they'd block a fellow user.
WhatsApp says it will work with 'a few hundred businesses' and companies that specialise in managing customer communications in order to bring its business capabilities to more companies over time. At the moment, Uber, Wish, and Booking.com are among those utilising the business capabilities.
Source: Mobile Marketing Magazine