Warner Bros.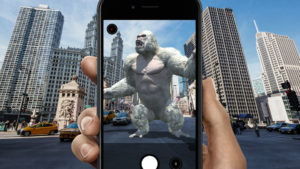 is promoting the April 13 release of action film "Rampage" starring Dwayne Johnson with an augmented reality (AR) app that lets fans see their surroundings torn apart by genetically modified giant animals. "Rampage: AR Unleashed" shows George the gorilla, Ralph the wolf and Lizzie the alligator wreaking havoc in two different attack modes.
Fans can enter a sweepstakes by creating videos using the AR app and sharing them on social media with the #RampageMonstersUnleashedContest hashtag. Dwayne Johnson this week announced the contest on his Instagram account.
Warner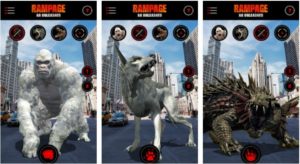 Bros. also plans a Rampage Monster Week to publicize the film with poster giveaways and demonstrations of a video game based on the film. The app is available for a free download from Apple's App Store and Google Play.
The promotion for "Rampage" shows how AR apps are entering the mainstream after Apple and Google began supporting the technology with software tools to help developers create AR features for mobile devices. "Rampage: AR Unleashed" requires fans to take the extra steps of downloading an app, but once they do, it may lead to much greater engagement with the film. "Rampage" is based on a video game released in 1986 by Bally Midway.
Source: Mobile Marketer