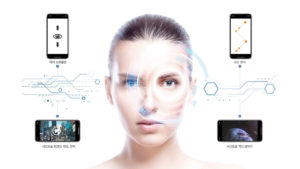 K-ICT Born2Global Centre, which supports promising technology companies in their efforts to enter overseas markets, announced that member company VisualCamp unveiled their self-developed mobile eye-tracking technology to great fanfare at Mobile World Congress Shanghai 2018 (MWCS18), which took place between June 27 and 29.
The mobile eye-tracking technology that VisualCamp unveiled at MWCS18 was designed to enable the approximately three billionsmartphone users from around the world to navigate their smartphones only using the gaze.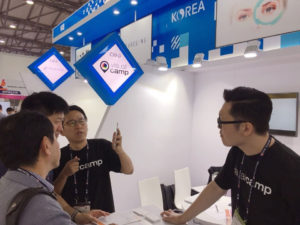 Mobile eye-tracking technology uses a camera attached to the front of the smartphone to track the user's gaze. With this technology, the smartphone user can not only execute various tasks through the user interface, such as using and switching between mobile apps, but also engage with interactive advertisements. Mobile eye-tracking technology has already attracted a great of interest from smartphone manufacturers and the advertising industry.
One particularly noteworthy outcome of MWCS18 is the MOU that VisualCamp signed with TUS-VR, an affiliate of Tsinghua University, regarding the commercialization of VisualCamp's technology in China. By signing this agreement, VisualCamp aims to establish a foothold in China as a stepping stone toward entering the global market.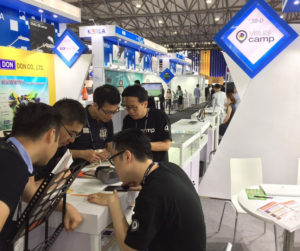 VisualCamp CEO Suk Yoon-chan said, "VisualCamp's independently developed eye-tracking technology and algorithm are currently being applied by businesses in a wide range of areas. The applications of our technology are limitless. Because mobile eye-tracking technology can be used to produce all kinds of smartphone content, including advertisements, games, and educational content, we believe that it will give companies many new opportunities to earn profit."
K-ICT Born2Global Centre Chief Executive Director Kim Jongkap said, "Once combined with the smartphone's voice-based AI, VisualCamp's recently released eye-tracking technology will be able to provide customers with even more value. We are confident that the demonstration of this technology at this year's Mobile World Congress in Shanghai will lead to VisualCamp's successful entrance into not only the Chinese markets, but also the American and European markets."
Source: VisualCamp