Alibaba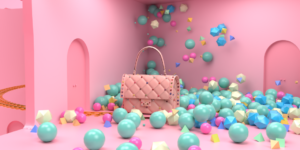 and Valentino have teamed up to launch a 3D online virtual store on the e-commerce giant's luxury shopping experience, Tmall Luxury Pavilion.
The online virtual store will mirror a physical Valentino pop-up store hosted in Beijing's fashionable Sanlitun District. The experience aims to integrate the online and offline brand experience to create a unique luxury destination to promote the brand's Garavani Candystud collection.
The partnership is the latest event by Alibaba to showcase its new retail offering, which has become a significant strategy by the e-commerce company.
Jessica Liu, president of Tmall Fashion and Luxury said: "Valentino's simultaneous running of a physical Candystud Factory pop-up store in Beijing and online with a Pavilion Tmall Space is a perfect illustration of how luxury brands can leverage Alibaba to engage their consumers and take advantage of the New Retail opportunity. And consumers get to enjoy the best of both worlds in a seamless and unique way."
Alibaba launched the Tmall Luxury Pavilion last year in a bid to provide premium and luxury brands with an exclusive and tailored experience to engage with high-end consumers. The launch also coincided with partnerships with luxury events, such as New York Fashion Week in a strategy to enhance the brand's fashion credentials.
This month, Alibaba launched the Luxury Pavilion Club, a new-retail driven loyalty program for high-end customers.
Alibaba's luxury push aims to challenge its rival JD.com, which is known for its luxury brand partnerships, in particular, its partnership with luxury fashion site, Farfetch.
Source: The Drum