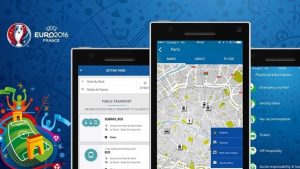 As the Euro 2016 comes to an end, with France setting up a date with Portugal in the Final, new data from Flurry shows 2016's tournament has been the most mobile-centric yet.
Sports app usage across the UK, Germany and France has rocketed by two thirds (65%) compared with 2015, as football fans rush to their mobiles to keep up with the latest results, analysis, and news.
The latest report from mobile analytics firm Flurry shows that UK mobile users enjoyed 44 per cent more sports app sessions during June 2016 compared with the same period in 2015. Euro 2016 has also been a particular boon for the sports media industry, as sports magazine apps have seen the highest growth in user attention by far, with time spent in them increasing to more than twelve times the 2015 levels (+1129%)!
Football fever has clearly gripped the UK, as Wales defied the odds to reach the semi-finals of one of the beautiful game's top international competitions.
In fact, Flurry analytics show we've been keeping up to date with all the latest news throughout the tournament via our mobiles, as the number of sports news app sessions has grown by 47 per cent year on year.
It even seems that the tournament has ignited a passion for gaming in many football fans, as the number of sports gaming app sessions has climbed by more than a third (35%) when compared with 2015.
Overall, here in the UK the number of sports app sessions increased by 25 per cent per person YoY.
Source: Net Imperative