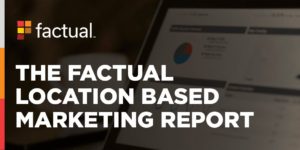 Almost two-thirds of marketers are making use of location data for tageting ads and promotions, and nearly half for location-based offers, according to new data from location firm Factual.
With mobile overtaking desktop, a wealth of location data is now available to marketers. US companies alone spent $17.1bn (£12.75bn) on location-targets mobile advertising in 2017, and a BIA/Kelsey study forecasts that will increase to $38.7bn in 2022.
In the firm's first-ever Location Based Marketing Report, Factual explored how advertisers and brands were taking advantage of this new wealth of data. The company commissioned Lawless Research, which interviewed 534 brand marketers and 166 advertising and marketing agencies on their use of location data.
The survey found that most marketers reported the use of location data boosted the effectiveness of their campaigns; 85 per cent said that location-based advertising and marketing produced growth in their customer base, with 83 per cent saying it produced higher response rates, and 83 per cent saying customer engagement was higher.
Marketers are also turning to location data for improved insights, with 77 per cent saying that the use of location data provided deeper knowledge of customer needs and interests, 74 per cent saying it improved ROI for marketing and ad campaigns, and 70 per cent saying it increased lift.
Despite the growing power of location, marketers were still worried about the power of the duopoly established by Google and Facebook. 92 per cent had concerns about the advertising duopoly, with 71 per cent looking outside Google and Facebook for alternatives. The topmost concerns when it came to advertising with Facebook and Google were false impressions (38 per cent), transparency (36 per cent) and pricing (36 per cent).
"Marketers and advertising agencies are leveraging the potential of location data across diverse use cases and seeing myriad benefits, from increased campaign effectiveness to higher customer engagement," said Factual in the report.
"As marketers seek to utilise location data, they're looking to location data companies that provide high-quality data, as quality data leads to optimal results. Since transparency is synonymous with data quality to most marketers, it is imperative that data providers are open with purchasers about how location data is being sourced and qualified. If they're not, customers will quickly seek alternatives."
Source: Mobile Marketing Magazine