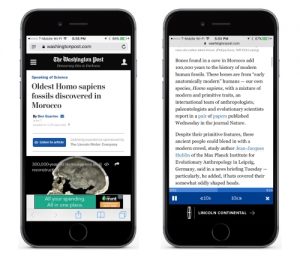 The Washington Post, Washington D.C.'s oldest existing and most widely circulated newspaper publication, is using Amazon's AI technology to experiment with audio articles.
Through the use of Amazon Polly, which enables developers to add natural-sounding speech capabilities to applications, mobile users will be able to listen to audio versions of four articles per day across The Washington Post's business, lifestyle, technology and entertainment news categories. The experiment will continue for the next month.
"This is a new technology that can give users more choice and better accessibility to our content, so we wanted to create an experiment to dive deeper into the user experience," said Joseph Price, product manager at The Washington Post. "After a month, we'll take what we've learned about how users engage with this feature to develop our first iteration of a product with Amazon Polly."
Ford's Lincoln Motor Company is the launch sponsor for the audio articles and presents an audio ad before each article is played.
The Washington Post says it will explore personalised playlists, as well as integration with mobile apps, in the future.
Source: Mobile Marketing Magazine