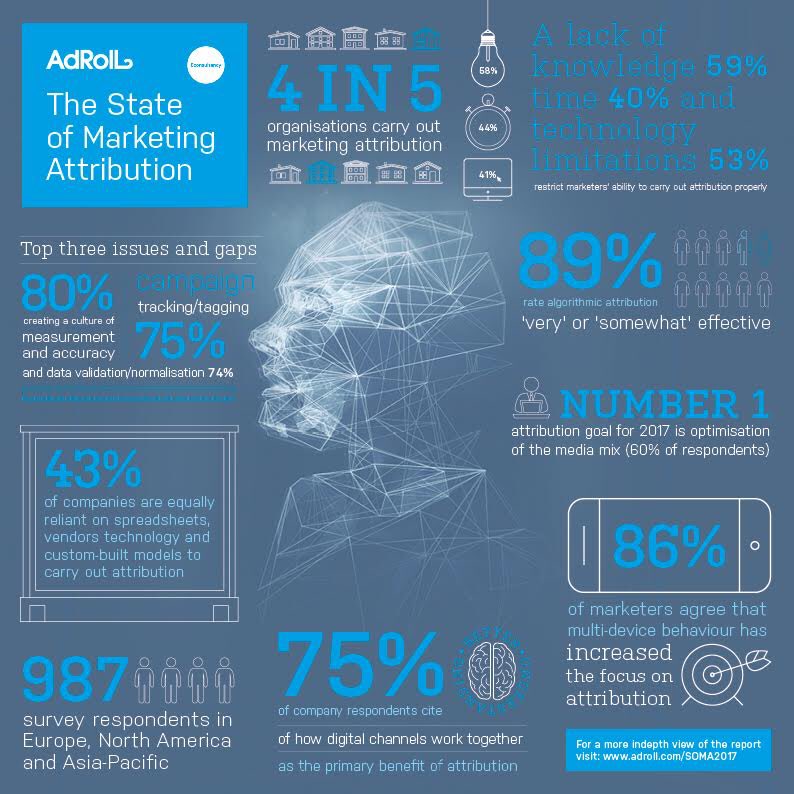 The global adoption of marketing attribution has increased though majority of business still struggle to act on insights, according to a new survey. The research, from Econsultancy and AdRoll, quizzed 1,000 brand marketers and agencies across Europe, North America, Japan and Asia-Pacific.
The 2017 State of Marketing Attribution report provides detailed insight into a marketer's perspective on the changing dynamics of attribution. Now in its second instalment, this year's report provides a global comparison, expanded from the European report released in 2016.
The customer journey is becoming increasingly complex and fast-paced with multiple devices and touch points. It's essential that marketers understand the effectiveness of their campaigns and how each channel contributes to bringing customers to their businesses in order to effectively spend their budgets. To do this, attribution continues to be a top priority for marketers. AdRoll's 2017 report shows almost four out of five organisations are using marketing yet 70% respondents still struggle to act on insights, citing defining the online customer journey as the most significant barrier to more effective usage.
"Attribution continues to be one of the hottest topics in the industry for a reason: it has huge consequences, such as lost revenue and wasted ad budget, if not done properly," said Shane Murphy, AdRoll VP of Marketing. "The State of Marketing Attribution report gives a sense of how marketers are dealing with this challenging topic. Marketers are being held to higher standards of measurement and accountability than ever before, and attribution models have the ability to show the true impact our discipline has on the bottom line of a business."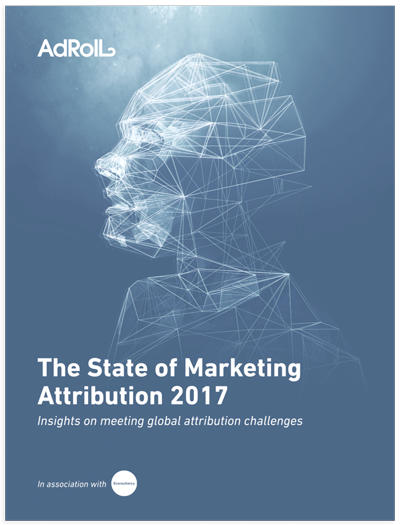 When asked about primary motivations of attribution, 70% of company respondents say better allocation of budget across channels was the No. 1 benefit; followed by 64% citing a better understanding of how digital channels work together. With the added visibility into where marketing dollars are performing across specific channels, 32% have increased their spend on digital marketing channels.
Additional key global findings from the report include:
Optimisation of the media mix is the number-one attribution goal for 2017
Single-click attribution models are still the most commonly used: 44% last-click and 39% first-click for brand marketers, and 58% last-click and 33% first-click for agency clients
Of the 25% of marketers using a custom attribution model, 48% deem it to be very effective
59% of marketers that have not yet implemented an attribution model say that a lack of knowledge is the main obstacle
Joining online and offline attribution is increasing: the report shows 60% of marketers today are using multi-channel attribution, compared to 45% in 2016
Marketers are split in how they execute marketing attribution: 43% rely on spreadsheets while an equal 43% have turned to vendor technologies.
71% of marketers describe their attribution model as very flexible (can easily apply multiple models to data), or somewhat flexible (multiple models exist but it is time consuming to change them)
Econsultancy's Head of Commercial Research Services, Monica Savut said: "There's increased recognition of the role marketing attribution can play in helping companies to maximise their business outcomes, but knowledge and confidence surrounding the use of various methods could prove to be a stumbling block. This year's research shows that companies need to take a more holistic and nuanced approach to attribution, constantly adjusting and refining until the correct balance is achieved."
Source: Net Imperative