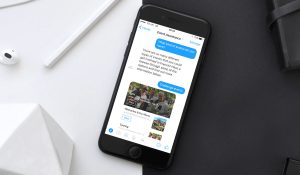 Digital agency, Puzzle, have partnered with The Children's Society to launch a unique AI powered bot.
The service will guide supporters who have signed up to do a fundraising event for The Children's Society and those interested in doing so. It can answer questions, provide or email information and update contact preferences, among other features.
Henry Rowling, Director of Supporter Experience at The Children's Society, says: "Digital technologies continue to change the way we live, work and interact with the world. They also hold huge opportunities for the way we, as charities, conduct relationships with our supporters. As a sector, we might not always embrace these opportunities but The Children's Society is changing that and has taken a bold new approach to truly put supporters first and to create new ways to engage with us. We are really excited to be working with Puzzle on this sector-leading project and we hope it will enable us to transform the lives of even more vulnerable young people in need of our help."
Lauren White, Director of Not-for-Profit, Puzzle, adds: "Tech doesn't have to be gimmicky – it can serve a real business purpose and deliver tangible results.  The bot facilitates contact deflection from other channels, freeing team members up from admin work so they can focus on core tasks and enables supporters to have questions answered at a time that suits them. Events can raise a huge amount of income for charities but are also massively resource intensive – this bot aims to help cut the strain on individuals to deliver them. We really want to help charities do what they do, better – to lift them so that everyone who engages with them has a truly great experience."
Francis Burns, Co-founder, Puzzle, concludes: "We want to push the boundaries of AI and integrated intelligent services to deliver tangible results for the third sector. Our purpose as a business is to solve challenges for our partners and we're delighted to launch this project with The Children's Society and excited to see where it takes us."
The Children's Society works directly with vulnerable children and young people while also campaigning to improve the lives of millions more.  They are committed to rewriting the rulebook for supporter engagement and see digital as a key part of their approach. This bot gives them a great opportunity to start to test that out.
Source: Puzzle