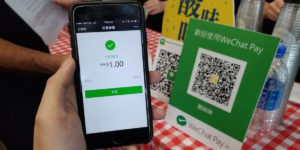 Tencent is looking to launch its mobile payment service WeChat Pay in India this year, in a bid to take on Google Pay and Paytm.
The Chinese tech giant has reportedly met with executives from the National Payment Corporation of India (NPCI) to obtain a licence for the payments app, according to Entrackr.
Tencent has already partnered with three Indian banks, Axis Bank, HDFC and ICICI and plans to launch the app by the end of June.
The move will see Tencent go head to head with Google, Amazon, WhatsApp and Xiaomi, all of which have launched UPI (Unified Payments Interface) systems in India.
The market is experiencing strong growth and is estimated to have reached Rs 1trn ($14.5bn) in monthly transactions.
The move will enable Tencent to further leverage its popular gaming platforms in India by enabling in-app purchases.
The launch in India comes as Tencent's gaming business struggles to recover from the Chinese government's crackdown on new game approvals, with the tech giant posting a 33% decrease in operating profit year-on-year for Q4.
Despite the overall decrease, Tencent revenues grew by 28% in the quarter buoyed by its advertising and cloud business.
Tencent also revealed its total daily payment transaction volume exceeded a billion for 2018. The growth was driven by increases in commercial payment revenues and the launch of WeChat Pay outside China in Hong Kong, Malaysia and globally through airports and selected merchants.
Meanwhile, WeChat users reached 1.098 billion in December 2018.
Source: The Drum