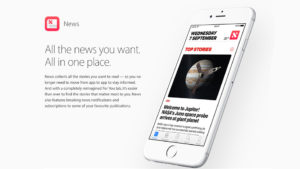 Advertisers will be able to buy video ad inventory across a swathe of publishers on Apple News in the UK for the first time, reaching a potential audience of up to 11 million Britons.
Some publishers already sell their own video ads on Apple News, but the Teads deal will mean it's possible for advertisers to buy inventory across the platform. It should make it easier for advertisers and open up a new revenue stream for publishers that don't carry video ads on Apple News.
Justin Taylor, UK managing director of Teads, said: "For some publishers, Apple News can be 30% of their traffic and they haven't monetised that before [when it comes to outstream video]."
Outstream ads are one of the fastest-growing areas of video advertising, generating £900m in the UK last year, according to the Internet Advertising Bureau. The ads appear seamlessly in an article and auto-play, but don't "pop up" or block the screen, making them less invasive.
Teads will only serve one video ad for a certain period of time on Apple News, meaning the advertiser gets 100% share of voice and the user won't be interrupted repeatedly by ads.
"A user will see an outstream ad as they scroll through the page," Taylor explained. "It only plays when it's 'in view'. It's advertiser-friendly and it's user-friendly."
Advertisers will be able to use a limited amount of Apple data, such as iTunes or previous app installs, to target broad audience demographics such as car buyers or Netflix users.
Apple News is pre-installed on most iPhones, making it easy for users to access the service, but it has carried little advertising, partly because Apple wants to ensure a good experience for users and to protect their privacy.
Apple believes Teads' "non-interruptive" approach to advertising won't detract from the reading experience while helping to give a revenue boost to premium publishers.
The tech giant prides itself on being brand-safe and fraud-free, and its news service only features approved publishers such as the Daily Telegraph, Channel 4, The Wall Street Journal and Sky News, which generate professionally produced content.
Each publisher has a dedicated section on Apple News where it can sell advertising if it chooses.
Teads' role as official reseller means it is easier for advertisers to buy at scale in one place and there is standardised technology.
"The benefit for agencies or direct advertisers is they will be able to buy 'outstream' in one place across the board within Apple News traffic or AMP [Google Accelerated Mobile Pages] traffic or mobile desktop traffic," Taylor said.
Telegraph Media Group previously struck a deal to be the official reseller of display advertising on Apple News in the UK in 2016, but it is thought that TMG has taken a decision to refocus on selling its own inventory on Apple News rather than for third parties.
TMG and Apple continue to work closely.
Separately, the publisher of the Daily Telegraph teamed up with News UK, the owner of The Times and The Sun, and Guardian Media Group to launch Verified Marketplace, a joint sales platform for outstream video advertising, in November 2017.
Source: Campaign Live