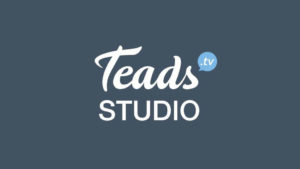 Teads, the global media platform, announced that Teads Studio will be hosting one hour immersive workshops at dmexco (11th and 12th September), where it will be responding to briefs in real-time to deliver mobile assets.
This year, Teads is bringing creativity, media and technology closer together to build a better ad ecosystem. Too often, these elements will sit in silos and Teads believes there is an opportunity to evolve the future of marketing by bringing them closer together, resulting in a flywheel effect in which media informs creative and creative informs media.
Following successful activations in Cannes, Teads will be bringing this concept to Cologne to deliver one-hour L'Ateliers' in which Teads' designers will develop highly customised and engaging assets built for upcoming ad campaigns. It will be open to Brand Media Directors, Brand Managers, Media and Creative Agencies. The series of activations will be led by Jonathan Lewis, Global Head of Teads Studio and Mirjam Swarowsky, Head of Teads Studio DE.
Previous research has found that 65% of sales uplift in digital is driven by creative. And in a 2019 study, Teads Studio optimised video assets drove a 26.5% net lift in brand impact across awareness, purchase intent and favourability. Additionally, Teads Studio interactive video gets 4x higher brand recall, 66% higher engagement, and 44% longer viewing time compared to non-interactive videos – showcasing the power of being able to take existing assets to make a brand's message work harder in mobile.
Jonathan Lewis, Global Head of Teads Studio commented: "Teads is a firm believer that conferences aren't just for participation; it's important to build, create, explore and innovate. This is why Teads is taking its interactive creative workshop, 'L'Atelier', back on the road to Cologne. Similar to our activations at Cannes, we will be offering clients the opportunity to develop with us in real-time a piece of creative for the Teads' mobile platform. We look forward to exciting and immersive sessions where we will create beautifully creative assets that will be used in upcoming Teads' campaigns."
Caroline Hugonenc, Global Vice President Research & Insights, added: "DMEXCO is a great opportunity for us to share the learnings of the 600 creatives we tested and optimized for mobile. It's not that easy for brands to break free from the legacy of TV advertising but we believe there is a huge opportunity for those who truly embrace the creative constraints and potential of mobile devices."
In addition to the 'L'Ateliers', Teads will be hosting a creative mobile workshop, led by Caroline Hugonenc, Global Vice President Research & Insights in Seminar Room 5 on Wednesday 11th at 14:00.
Source: Teads