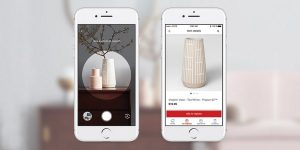 US discount retailer Target has joined forces with Pinterest so that customers can search for products, without needing to type any words, through pictures.
Through the partnership, Target has embedded Pinterest's visual search tool – Pinterest Lens – into its own app, making it easier for people to find what they want. By taking a picture of any item, Target's app will present people with a curated set of products that resemble or complement the item in the picture.
"We've partnered with Pinterest for years—it's a natural fit, thanks to our shared passion for creating inspiration and a sense of discovery," said Kristi Argyilan, SVP of media and guest engagement at Target. "Now, Target's excited to take our partnership to the next level. We'll be the first – and exclusive – US retailer to bring Pinterest Lens directly into our apps and experiences, creating an incredibly rich and much easier way for our guests to explore, discover and buy millions of products at Target."
Pinterest will begin by adding its Lens into Target's registry experience in the coming months, before adding visual search into the Target app.
"This Pinterest partnership quite literally helps us shorten the distance from when our guests have an idea to when they're ready to make a purchase," said Rick Gomez, CMO at Target. "It's another way we're making it easy and fun for our guests to explore and find new products. Plus, as we start to understand what shoppers are really looking for, it'll help us better anticipate – and plan for – the latest styles and trends."
Source: Mobile Marketing Magazine