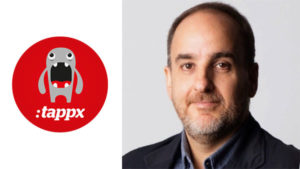 Tappx, the global AdTech company specialising in advertising solutions for advanced digital platforms — has appointed Spanish advertising industry veteran David Lahoz Martin as its lead Product Strategist.
David's primary mission is to help reinforce Tappx' position as one of the leading companies in the digital advertising world. David is heading up the optimisation of Tappx' product portfolio for direct advertisers and global media agencies, by creating tailored products and solutions for global media agencies, performance marketing agencies and direct advertisers. Utilising his extensive network of industry contacts, David will also be cementing strategic partnerships with world leading brands and agencies.

Daniel Reina, Chief Executive Officer at Tappx, commented: "As Tappx' ambition and product portfolio has grown, it has been necessary to bolster our ranks with top tier talent like David. He brings with him invaluable agency expertise and industry acumen, which will help Tappx strengthen its position as a leading provider of multichannel services for media agencies and direct advertisers alike across the globe."
David brings with him over two decades of industry experience in advertising, digital product development and digital media sales. He has held various C-level positions at some of the world's largest media agencies including Carat, Isobar and Zenith Optimedia.
Across his digital agency career, David has been responsible for developing highly innovative campaigns for world leading brands such as Nestle, Adidas, Renault and 20th Century Fox.
Back in 1990, David founded the first digital advertising sales house in Europe called Interad, which was later acquired by 24/7 Media in Europe. David also spent six years at Dentsu Aegis Media in Spain, and was instrumental in founding its digital media planning team.
Source: Tappx