TabMo's Point to Purchase solution enables consumer brands and retailers to track the meaningful actions that take place as a result of their mobile advertising activity, thereby delivering a definitive measurement of the return on investment (ROI) of a specific campaign.
Building on TabMo's drive-to-store solution, Branding to Store, Point to Purchase bridges online and offline channels, making a direct link between advertising spend and sales generated as a result.
Point to Purchase allows advertisers to determine three key criteria; the correlation between these measurements indicates how audiences have been influenced by a mobile campaign:
Intent to purchase: Whether the people who see a campaign are more inclined to buy that particular product or visit a certain store. (i.e. has the user's decision been informed by the advertising?)
Live footfall tracking: Whether the user's intentions translate into a store visit (to either buy the product or visit the store).
In-store sales uplift: If these visits to retail outlets lead to actual in-store sales (i.e. has the campaign caused a percentage increase in in-store sales?)
Point to Purchase (and Branding to Store) are made possible by TabMo's platform Hawk, TabMo's owned and operated, mobile-first demand side platform (DSP), which is unique in its ability to track footfall in real-time, thereby giving consumer brands and retailers a top down look at the effect their campaign is having on store visits.
Hawk enables brands to reach audiences across mobile devices with pinpoint location accuracy and provides access to unique mobile audience data. Hawk is the only DSP of its kind to enhance mobile campaigns by activating sequential messaging across additional channels including digital out-of-home (DOOH), connected TV and programmatic audio. For brands and retailers looking to physically drive consumer to store this is incredibly powerful. 
Chris Childs, managing director at TabMo UK, said: "Over the past two years we have worked with various flagship retailers and global consumer brands to help them reach the right audiences on mobile and drive engagement with those audiences.  Point to Purchase is the next step in measuring true ROI. We can now tell those advertisers how they influence the mindset of these audiences by clearly showing whether people acted on an ad.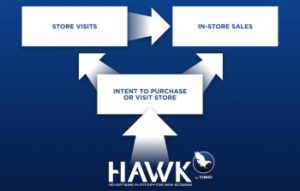 "In addition to tracking live footfall and enabling campaign optimisation in real-time, Point to Purchase provides full creative support for mobile campaigns.  It is the first end-to-end solution to enable creative ad build, location settings, audience activation, real-time tracking and post campaign reporting to be undertaken on one platform.
"TabMo's rationale is to lead brands through the whole mobile advertising campaign from start to finish, and enable them to reach audiences on multiple screens with the right message as part of that activity. The challenge we continue to face is tracking audiences across all channels; we have built solutions that are scratching the surface but there's a long way to go. Right now, we are focused on showing meaningful results to our customers.  Ultimately both proving success and validating results are fundamental to the future of advertising," said Childs.
Source: Mobile Marketing Magazine