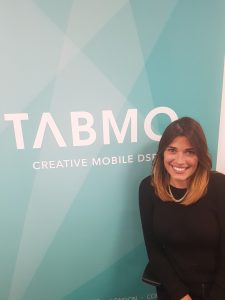 Customer demand for TabMo's programmatic mobile advertising technology continues to grow and the creative mobile demand side platform (DSP) has expanded its team with the recruitment of Sophie Plenert as agency sales manager.
Plenert joins from mobile monetisation company Mozoo, where she was part of the team that planned and executed both branding and performance campaigns across mobile and tablet for Group M's agencies.
TabMo's technology, Hawk, is a next-generation programmatic mobile DSP for agencies and advertisers. It is the first to manage the complete purchasing process and the real-time broadcasting of mobile advertising campaigns. It also emphasises the creative side of the digital advertising model to help advertisers engage with their audiences via mobile and deliver high returns on investment.
"As well as a thorough knowledge of the mobile advertising landscape, Sophie brings the right blend of creativity and programmatic knowledge to complement TabMo's offering," said Chris Childs, managing director at TabMo UK. "She has strong agency contacts and a consultative approach that has endeared her to the clients with whom she works."
Source: TabMo