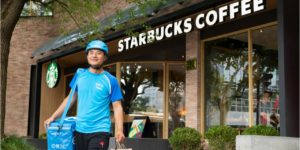 Starbucks has extended its partnership with Alibaba in China, which will see it launch delivery services, establish a delivery kitchen and create a virtual store with the help of the eCommerce giant's subsidiaries.
The American coffee giant is already working with Alibaba for its interactive coffee store Shanghai Reserve Roastery, which is powered by Alibaba technology to allow consumers to place and pay for orders digitally via an app, as well as engage with augmented reality experiences, view menus, order special blends and book customised experiences.
It also houses Starbuck's Teavana Tea brand and Princi Bakery, an artisan café concept offering baked goods, sandwiches and desserts.
China is Starbucks's fastest growing market and the coffee brand has more than 3,100 stores across 136 cities in the country, with a new store opening every 15 hours. It added a further 6% growth in the market driven by increased transactions and 30% growth in revenues during the first quarter of 2018.
WeChat pay and Alipay also contribute to more than 60% of transactions in China for Starbucks.
The latest partnership will see Starbucks work with Ele.me, Alibaba's food delivery platform to deliver its products to 150 stores located in key trade zones in Beijing and Shanghai from September. It will also work with Hema supermarkets, a key aspect of Alibaba's new strategy, to establish dedicated 'Starbucks Delivery Kitchens' within Hema outlets in Shanghai and Hangzhou.
In addition to the app it has already built for Starbucks' Shanghai Reserve Roastery, Alibaba will develop a centralised online management hub to integrate and deliver a consistent Starbucks experience for customers across multiple digital platforms.
This means Starbucks customers, whether they are at home or in a Starbucks store, will be able to purchase merchandise online, buy a Starbucks beverage to be delivered to a friend or send a Starbucks gift of love on the 'Say it with Starbucks' social gifting platform, which accounted for $20m of its revenue in Q1 of 2018.
Starbucks will also progressively integrate its Starbucks Rewards (SR) membership, which currently has more than six million active members in WeChat, onto the centralised system.
"Our Chinese customers have a high expectation of their Starbucks experience and we are proud to introduce a premium delivery experience that reflects the same service and quality they've come to love and expect from us in our stores – we will never compromise," said Belinda Wong, chief executive officer of Starbucks China. "More significantly, through our partnership with Alibaba, we are breaking the physical and virtual barriers between the home, office, in-store and digital space, making China the first Starbucks market to deliver a seamless Starbucks experience across all facets our customers' lives and further reflecting the uniqueness and strategic importance of the market."
Source: The Drum