SpringHill Suites by Marriott capitalized on the popularity surrounding mobile video by leveraging a programmatic interscroller format to offer users an immersive tour of a room, resulting in nearly three times higher ad engagement than the benchmark for hospitality brands.
The subsidiary of Marriott International teamed up with video advertising and digital display platform Celtra, global media agency MEC and engagement platform PadSquad for the campaign, which experienced much higher ad engagement rates than anticipated. As detailed in a case study released today, SpringHill Suites leveraged Celtra's interscroller ad unit, which requires interaction from the targeted user, for the campaign, showcasing how hospitality marketers can stand out on mobile.
"Mobile usage has now surpassed desktop, and we at SpringHill Suites recognize the importance of reaching users where they're heavily consuming media," said Honey Konicoff, director of brand marketing for SpringHill Suites. "Leveraging interactive units efficiently and at scale allows SpringHill Suites to deliver a unique brand experience that showcases all the hotel has to offer."
Checking in mobile engagement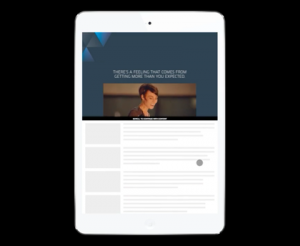 The ad unit – which used Celtra's AdCreator platform and native interscroller – was designed by PadSquad's creative team. The custom experience sought to drive brand awareness for SpringHill Suites by way of an immersive multi-video tour.
Consumers browsing sites on their mobile or tablet device may have spotted a banner ad at the bottom of their screens, alongside a black circle. Users could hold their finger over the circle to help the ad scroll upwards and roll out into a full-page experience.
Individuals were then privy to a tagline proclaiming, "There's a feeling that comes from getting more than you expected." The ad unit also featured one large video with three smaller ones beneath it, each showcasing someone exploring a SpringHill Suites hotel room.
Once users finished interacting with the videos, they were able to use the black circle to scroll the ad upwards until it disappeared, enabling the site's content to return to full screen again.
The campaign garnered an ad engagement rate nearly three times higher than Celtra's benchmark for hospitality and travel marketers and five times higher than Celtra's overall benchmark for 2016's first quarter.
SpringHill Suites distributed the new ad unit across PadSquad's premium publisher inventory.
Progressive ad formats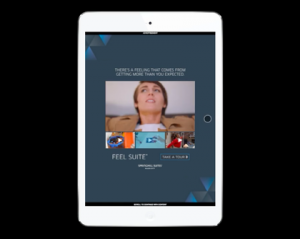 SpringHill Suites wanted to employ mobile advertising for its latest campaign after recognizing the importance of reaching potential customers on the platforms they frequent the most.
One key factor for this campaign's success was the nonintrusive format of the ad unit, which gave users the option to scroll upwards to see all of the content or ignore it at their leisure.
As ad blocking continues to be a top concern for many marketers, leveraging scrollable ad formats that take consumer behaviour into account may help circumvent the problem.
Marriott has been placing an especially large focus on its mobile initiatives as of late, as evidenced by its decision to introduce content geared toward different audiences and experiment with new types of social media campaigns.
Several weeks ago, Marriott International shifted its mobile focus to a new group of potential clients via a site rife with inspiring imagery, quizzes and helpful tips designed to entice event planners to book a venue for their next fete, showcasing the importance of tailored content.
The brand also scored a major touchdown with a campaign that asked consumers in San Francisco to take a photo of its Super Bowl-branded bus and post it to Twitter in exchange for Marriott Rewards points.
"Mobile requires a unique, data-driven approach to ad experiences," said Rachel Pasqua, mobile practice lead at MEC North America. "This partnership illustrates how effective and engaging a campaign can be when the creative is designed specifically with consumer behaviors in mind.
"SpringHill Suites by Marriott is the first in its category to couple this interactive unit with the efficiency and precise targeting of programmatic buying."
Source: Celtra