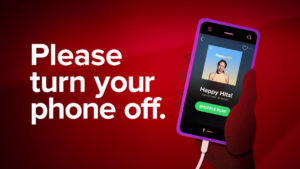 In a first-of-its-kind partnership with Picturehouse Cinemas, Spotify, one of the world's most popular streaming service, will be taking over the pre-movie 'turn off your phone' moment across all screenings for two months as part of a broader campaign involving OOH, social, radio and digital activations.
The partnership, devised by media agency UM and Digital Cinema Media (DCM), is part of Spotify's 'Everywhere' campaign which launched UK-wide on Tuesday 7th May.  The campaign, Spotify's largest since its popular 2018 Wrapped campaign, aims to highlight the ubiquitous availability of Spotify and how the streaming service can offer 'Music for every mood'.
Olga Puzanova, UK Marketing Director at Spotify said: "While Spotify looks to transform the way people enjoy music and podcasts, we wanted this campaign to demonstrate Spotify's ongoing commitment to music discovery, which includes personalised playlists to suit every mood, anywhere you are. Picturehouse is the perfect partner for Spotify; through the collaboration we are able to connect with a young, urban audience with a love for the arts and diverse range of cultural tastes."
The 'turn off your phone' assets which were produced by Picturehouse's in-house team  feature tongue-in-cheek messages tailored to the films being viewed, with specific versions created for blockbusters including Avengers: Endgame and Aladdin. 
As part of the multi-faceted campaign, Spotify's own commercial for the 'Everywhere' campaign will also run in-reel ahead of the upcoming film trailers.
Russell Archer, comms director at UM, comments: "In true Spotify fashion, their partnership with Picturehouse Cinema keeps things light-hearted and pokes fun at their own 'Everywhere' campaign by taking over one of the only life moments that Spotify doesn't actually improve – going to the cinema. This is a wonderful example of how a well thought through campaign can use multiple touchpoints to create a fun and memorable brand experience." 
Davina Barker, Sales Director, DCM added: "Cinema offers a powerful environment to land key brand messaging and Spotify is maximising this with the creation of contextually relevant bespoke content. This campaign is a clever use of our medium and it will no doubt engage and build affinity amongst young upmarket Picturehouse cinema-goers."
The 'Everywhere' campaign will also be supported by a significant OOH presence across London including the iconic Waterloo Motion site, as well as radio coverage, YouTube and social activity. A bespoke Snapchat Lens, created by Snapchat, will allow users to interact with mundane everyday moments and see how Spotify can transform their experiences.
Source: UM