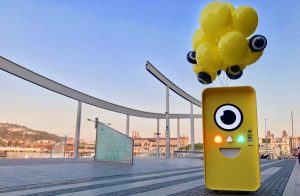 Snapchat's Spectacles have arrived in Europe for the first time with Snapbots, vending machines which contain the glasses, landing in five major European locations.
The vending machines have popped up under the London Eye, on a boat in front of the Eiffel Tower, by the canals in Venice, on the beach in Barcelona, and on the high ropes in Berlin. Being close to one of the Snapbots will unlock exclusive lenses and geofilters.
"We're thrilled Spectacles will be landing in Europe in time for summer and can't wait to see all the creative ways that our community here will use them," said a Snap Inc. spokesperson.
Spectacles are available within the Snapbots for £129.99 and €149.99. They are also available for purchase on Spectacles.com in the UK, Germany, Spain, France, Italy, the Netherlands, Ireland, and more locations across Europe.
The Spectacles website will also tease new Snapbot locations 24 hours before their arrival.
Spectacles arrived in the US toward the end of 2016. They have a 115-degree angle lens, designed to mimic how the human eye sees. They enable wearers to record 10 seconds of video, which can be added to with two additional 10 second clips, via a tiny camera in the frame. The video transmits via Bluetooth or wi-fi to a paired device's Snapchat 'Memories' section
The Spectacles case doubles as a charger when the glasses are not in use.
Source: Mobile Marketing Magazine