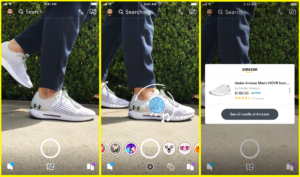 Snap has announced that it is testing a new visual search tool for its app that will enable users to check Amazon for products and shop for items directly from the app.
The functionality, which the firm is rolling out "slowly", transforms Snapchat's camera into a visual search service, with the app able to recognise both products and barcodes. By pressing and holding on the camera screen, users can initiate a search, and when a product is recognised, an Amazon card will appear onscreen, surfacing a link to the product or similar items for sale from the online retail giant.
Users can then tap the selection to visit Amazon.com or open the Amazon app if they have it installed, and from there either complete their purchase or continue browsing.
Testing of the new functionality will begin with selected users this week, and will be expanded in a phased manner, with Snap fine-tuning the function as it receives user feedback.
"Snapchat has always been the fastest way to communicate, and now it's the fastest way to shop!" said a Snap spokesperson in a blog post announcing the new functionality.
The announcement of this new feature continues the cold war of innovation currently taking place between Snapchat and Instagram, as both platforms seek to add exciting new functions to their offering to maximise user engagement and retention. Instagram recently unveiled a series of new updates aimed at making shopping easier on its platform, and is reportedly working on a standalone app focused entirely on shopping.
The partnership with Amazon enables Snapchat to outsource most of the actual shopping functionality to a well-established player, but Instagram's focus on sectors like fashion, beauty and lifestyle ties in closer with its brand and areas that are already performing well for retailers in terms of advertising on the platform.
Source: Mobile Marketing Magazine