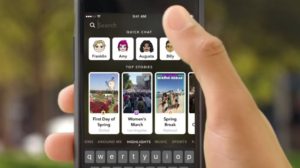 Snap calls itself a camera company, and now it's taking a big step towards the proliferation of content beyond the confines of Snapchat. As rumoured, the company will allow iOS and Android users to share select stories outside of the app (the same way you'd share a mobile web link or tweet). At launch, the feature is limited to content from Snapchat's Discover media partners, Our Stories from events and places and stories from the search bar.
Users on the redesigned app in countries like Australia and Canada will get the function first, allowing you to share a story via text, iMessage or email, and to other platforms. The rest of us can view the clips for 30 days (in the case of search and Our Stories) and 24 hours (for Discover stories) on the new story player on Snapchat.com. Yes, ephemerality remains — this is Snapchat, after all. The feature will roll out worldwide in tandem with Snapchat's redesign over the net few weeks.
Since Snapchat's blockbuster IPO (that valued the company at $24 billion), there's been plenty of talk about its declining fortunes. The app is struggling to gain new users and its tricky set-up means that additions (like the location-sharing Snap Maps) are being ignored. You could say that Instagram poaching its Stories function in 2016 set the ball in motion.
But, the app still boats 178 million daily users who share a whopping 3.5 billion snaps each day. Investors have been screaming at it to better leverage that mountain of content (which includes news, posts from celebs and video-essays from events), and story sharing is the company's answer. It should also give a leg up to publishers worried about the detrimental effects of a looming redesign that splits user and media content into separate tabs.
Snap has dabbled in creative tools for users in the past, including on-demand geofilters and the recently launched Lens Studio, which opens up its augmented reality graphics.
Source: Engadget