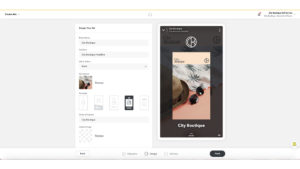 Snapchat's Instant Create tool, which enables advertisers to create vertical video ads on Snapchat more quickly and easily, is officially live.
Snap co-founder and CEO Evan Spiegel trailed the tool on last week's Q2 earnings call when he said: "Just this month, we started testing our new Instant Create onboarding flow, which generates ads for businesses in three simple steps from their existing assets, be it their app or their eCommerce storefront."
Instant Create is available to advertisers via the Snapchat Ads Manager self-service platform. The company said it will remove friction from its self-serve tools by significantly decreasing the time and creative investment required, which it believes will appeal strongly to smaller, time- and resource-constrained advertisers.
Last week, Snapchat reported that in a Conversion Lift test with Snapchat, oral care brand Quip had seen a seven per cent incremental lift in purchases driven by Snap Ads and Story Ads. Certain audience cohorts generated greater than eight per cent incremental lift. Instant Create is designed to enable advertisers like Quip to create ads even faster.
Snapchat currently has 203m Daily Active Users, creating 3.5bn Snaps and watching 10bn videos every day.
Source: Mobile Marketing Magazine