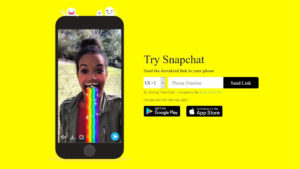 Snapchat has further extended its monetisation strategy with the launch of 'Snapchat Storytellers'; new functionality designed to increase the involvement of high-reach influencers with adverts in its Discover and Stories channels.
The new tool aims to aid brands wishing to better utilise their presence on the medium by engaging with its most successful content creators, acting as a springboard for their own campaigns.
Rather than tie businesses and creators into lengthy contracts Snapchat will instead rely on more informal arrangements. It will also forego taking a percentage cut of any transactions made sensing greater value in playing the longer game of building its advertiser base.
In practice this will entail creation of a curated list of brands and creators with Snapchat serving to facilitate introductions between parties on both lists should they express interest.
Snapchat has also improved its pitch to premium publishers and brands by offering unskippable ads for the first time.
Source: The Drum