Snapchat has introduced a range of new lenses that give users the opportunity to play augmented reality (AR) games with their friends on the app.
With Snappables, Snapchatters use touch, motion, and facial expressions to take part in the interactive games. Some of the games give users the chance to challenge their friends and beat their high scores, while others offer a multiplayer experience. Snapchatters could start a rock band with friends or fight off aliens with their face.
"We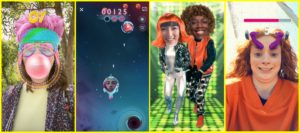 see Snappables as just the very beginning of a new type of AR experience on Snapchat," said a Snapchat spokesperson. "Up until today, Lenses have been about transforming your look or the world around you through content. Snappables are the first shared AR experiences on Snapchat. Snappables invite you to become a part of another world and then you share that world with your friends."
The interactive lenses live in Snapchat's Lens Carousel – to the left side of the capture button. They will begin rolling out to people across the world on both Android and iOS.
Source: Mobile Marketing Magazine