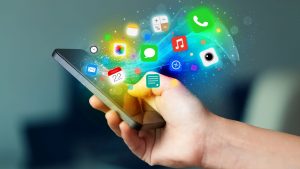 The launch of the smartphone and wider "connectivity" are seen as the most significant technology breakthroughs during the past 25 years, a survey has revealed.
Telecommunications company TSI asked people to share their views on what tech has made the biggest impact since the 1990s, how it is used, and what the future holds.
An overwhelming 60% said the smartphone – which debuted in 1992 as the "Simon Personal Communicator" – has had the biggest impact. And a staggering 90% use the internet in all its forms for more than four hours every day, which equates to 1,460 hours or 61 days every year.
The most common piece of old technology that we still have in the UK, hoarded away in a cupboard or "Monica closet" as the hit '90s sitcom Friends portrayed, is a corded mouse with a track ball, with one in four saying they still had, or used, one.
The humble floppy disc and fax machine still make an appearance with nine per cent and three per cent representation, but the pager – once seen on the hip of many a yuppie – appears to be extinct.
Steve Kyprianou, managing director at TSI, said: "Despite 35mm cameras and phones with aerials now being referred to as vintage, I can still remember my very first brick-like phone, not to mention the pager, and how innovative it was when first released. We're now on release eight of the iPhone, and the rise of the 'connected culture' means we value wider connectivity, super-fast WiFi and instant access to information at our fingertips over work tools such as Microsoft Office and Windows XP."
The survey results revealed robots, artificial intelligence and driverless cars were predicted to become the norm over the next 25 years, but nobody voted for underwater cities, despite reports about them becoming commonplace as populations are squeezed out of towns.
The survey also looked at business trends, as the advancements in technology allows us to work more remotely and spend less time travelling.
It was found that over half the working population (58%) spend seven hours or more every week travelling for business. This means we're losing 354 hours and 15 days per year, and wasting 713 days of our life on travelling, including the dreaded commute.
In addition, 60% of us rely on technology for work, yet very few are confident that the systems used support effective remote working, which is worrying, considering more than four million people work solely from home in the UK.
And nearly half of those surveyed said their ideal place to work remotely would be Bora Bora, French Polynesia.
Data protection is also a key concern with 64% voicing their concerns over how protected it is, with human error deemed the biggest threat, at 45%.
Steve added: "While the survey suggests strongly that it's not just millennials who have their noses in their smartphones all day, the upside is that commerce has evolved, too. As technology has advanced, the world has grown closer and we can now work remotely, spend less time travelling and have greater flexibility. And I'd certainly agree. My ideal location to work would be Bora Bora, too. It is now a reality that we can work anywhere."
Source: Net Imperative