Microsoft has launched a revamped version of Skype, taking inspiration from Snapchat because that's the cool thing to do now.
One of the new features is called 'Highlights', which is yet another Stories-like feature introduced by a company. Highlights enables users to create a highlight reel of their day with photos and videos. Users can add to Highlights by swiping to access their camera, another new feature, to take a photo or video. These photos or videos can either by added to the highlight reel, or shared with contacts or groups. Friends and family can react to a Story – sorry, Highlight – with emoticons or by initiating a conversation.
Skype has also introduced add-ins and bots via a new 'Find' panel. Through this feature, users can interact with a range of chatbots, while chatting to friends or family, and bring up things such as the weather, create polls or access YouTube.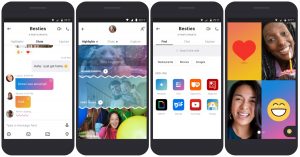 The new Skype will roll out to Android devices gradually over the next few weeks before arriving on iOS. Desktop versions for both Window and Mac will be released over the coming months.
"Life is busy and filled with too many options. Staying connected, with all this noise, can sometimes be challenging. And in a world of choice, having a familiar place to share with the people who are closest to you, can go a long way," said the Skype team in a blog post.
"Skype has been a part of your life since 2003. Yet, our promise to you has always stayed the same: to help you create meaningful connections, regardless of the distance, in new, simple and intuitive ways. And with the new Skype we're closer than ever to bringing your world together."
This revamp is a major risk from Microsoft. Its Skype platform is predominantly used by people connecting to loved ones or people connecting for work. By targeting an audience that it's probably never going to capture, the tech giant could potentially alienate the people that actually use the platform.
Source: Mobile Marketing Magazine