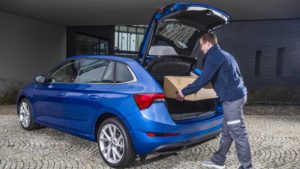 Skoda is working on a new project that will enable couriers to deliver parcels to your car boot. It will enable consumers to provide their vehicle's location and number plate, instead of an address, when ordering goods.
The technology required for remote access to the car is currently being tested in the pilot scheme.
Jarmila Plachá, head of Skoda's DigiLab: said: "This pilot project provides a concrete look ahead at how everyday life can be made even simpler and more convenient in future by using state-of-the-art technology. I'm looking forward to further developing this project together with our partners."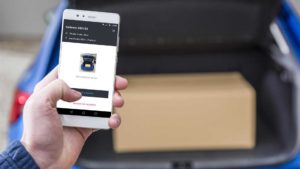 DigiLab has partnered with two of the biggest online retailers in the Czech Republic, and has a view to bring the technology to UK consumers in the future.
Jaguar Land Rover trialled a similar scheme in 2017 and Amazon already offers the service to owners of certain Volvo and General Motors vehicles in America.
Connected in-car technology has enabled the brand to introduce the new delivery method, which works by giving the online retailer permission to deliver packages to their car via a mobile app.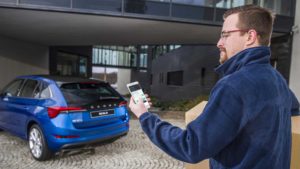 When an order is placed, the car's location is displayed to the courier via GPS for delivery. Using the app, the courier is then granted one-time-only, secured access to open the boot within a pre-defined time frame. They then place the parcel in the boot, subsequently relock the vehicle using the app and the customer is notified about the successful delivery.
Security is a paramount issue for the scheme; data is encrypted and the parcel courier is restricted to opening the vehicle within a short time frame that is defined by the customer. The service and technology are currently being tested and specifically optimised; the system is going to be trialled for the project partners by a small selection of customers.
Source: Fleet News