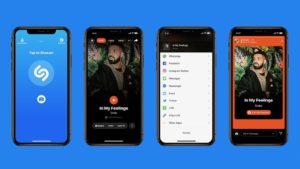 The iOS version of Shazam, the music identification app acquired by Apple in December 2017 for $400m, has been updated to version 12.3, and now integrates with Facebook-owned Instagram, enabling users to share songs they discover on Instagram Stories.
The update is the second major update to the app since Apple completed its acquisition of Shazam, which was finally approved in September after nine months of regulatory checks. As part of its acquisition, Apple made Shazam ad-free, although brand partnerships are still available on the service.
With the new integration, Shazam users can share a song they have identified through the app directly to their Instagram Story via the share button within the Shazam app. Once posted to a Story, other Instagram users who view it can tap through and access additional details within the Shazam app.
Shazam has been downloaded over a billion times globally, and is used to identify music tracks more than 20m times each day. The service launched back in 2002, but only exploded with the arrival of the App Store in 2008. The company has not revealed if the 'share to Instagram Story' functionality will also be coming to its Android version.
Source: Mobile Marketing Magazine