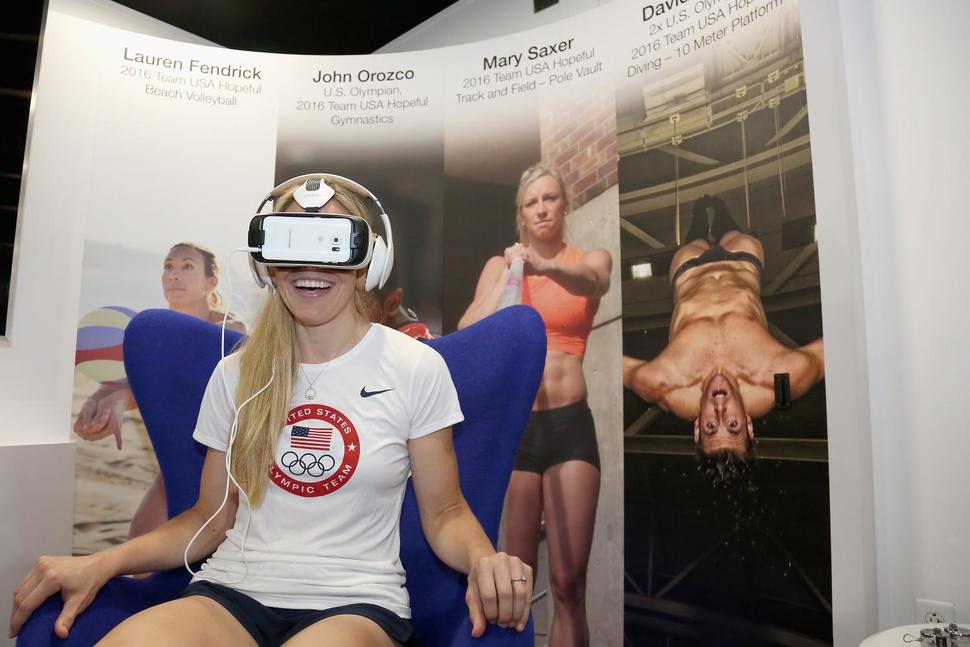 Hundreds of millions of people are expected to watch the summer Olympics in August, but only users of Samsung phones with a paid TV subscription will have the chance to watch the tournament in virtual reality for the first time, NBC Sports announced on Thursday.
The London summer Olympics in 2012 attracted 217 million viewers, making it the "most-watched event in U.S. television history," according to NBC, which aims to make this year's games "the most live Olympics ever" by taking steps including this partnership with Samsung.
Using Samsung Galaxy smartphones compatible with the company's $99 Gear VR headset, viewers will be able to watch 85 hours of the games in virtual reality through the NBC Sports app after being verified by their television provider, the network announced in a press release.
The 360-degree video coverage will be broadcast on delay Aug. 6 through Aug. 22. Events broadcast in virtual reality will include the opening and closing ceremonies, men's basketball, gymnastics, track and field, beach volleyball, diving, boxing and fencing.
Gary Zenkel, president of NBC Olympics, said, "Olympic fans can be transported to iconic venues such as Maracana Stadium for an unprecedented view of the Opening Ceremony, and Copacabana Beach for an immersive beach volleyball experience in the sport's ultimate setting."
Virtual reality coverage of sports events is becoming more common. NBC broadcast the Kentucky Derby in 360 video in May, and Fox Sports broadcast parts of the U.S. Open tennis tournament in June.
"VR technology carries incredible potential for the sport broadcast industry," said Yiannis Exarchos, the CEO of Olympic Broadcasting Services, the company that will record the 360-degree video. "Our first test in Lillehammer, together with Samsung, for the Winter Youth Olympic Games was highly successful."
"[Virtual reality] has the power to enable hundreds of millions of people around the world to have a real sense of presence and participation in the most universal celebration of humanity," he said.
Source: Gear VR