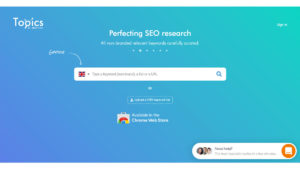 A new SEO research tool has been launched, allowing digital marketers to gain valuable and in-depth keyword insights for free.
Topics, which was developed by SEOmonitor, a leading provider of SEO software, is a comprehensive monitoring tool that instantly provides a competitive overview for a topic, keyword list or domain.
It provides rich insights on keyword trends, search volumes, SERP features, and competitor analysis and is powered by a curated and up-to-date keyword database that guarantees accurate results without further manual work.
As well as launching Topics, SEOmonitor will also be supporting digital marketing agencies that are under three years old with a series of £5,000 grants. Through its Spark programme, digital marketing start-ups can receive a year's worth of daily keyword rankings, full access to its forecasting tool – Business Case Builder – and data analyst app – Signals.
Cosmin Negrescu, founder and CEO of SEOmonitor, said: "With so much data to consider, it can be a challenge for digital marketing agencies to plan a SEO strategy that really focuses on what matters. That's why we've developed Topics. It helps to extract and aggregate all the keyword data and information a user could need for their campaign research. It also helps to save digital marketers time and money, as all the information can be obtained from one place, eliminating the need to compile data from different tools which could lead to duplications and irrelevant information."
Topics, which is available in the UK and US and is completely free, can be accessed here.
Source: SEOmonitor