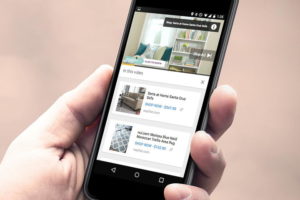 Teads, the global media platform, has partnered with Realeyes to analyse 166 six-second creatives to understand how to make six-second video content resonate with consumers. The global research initiative tested ad creatives from 75 brands, using facial coding software to measure users' emotional reactions, awarding each ad an EmotionAll score out of ten. It showed that, while six-second ads have an average View Through Rate (VTR) of 55% on mobile devices, they only see an EmotionAll score of 3.6 compared to 5.1 for longer form (30 second) ads.
Collaborative research from Realeyes reveals that emotional impact from video ads correlates to sales lift with 75% accuracy. This research suggests that six-second ads often struggle to develop a narrative in a short amount of time, which is a key factor in building an emotional connection. Six-second mobile ads that were able to tell a story performed significantly better, scoring a 4.1 with a narrative, compared to 3.1 without.
For Sorin Patilinet, Director of Centre of Expertise for Marketing Communications at Mars, which placed two videos in the top three best performing ads, the 6s format is challenging for marketers but the code has to be cracked : "For over 50 years Mars in partnership with our agencies continuously learned how to use advertising to drive brand growth, in a TV world of long form content. This is no longer enough today. The explosion of short form content caused by the emergence of mobile and erosion of consumer attention have changed the rules of the game. We have to learn how to tell brand stories in shorter formats, and get ready for even shorter formats in the near future. Thanks to the research that Teads has led, we are building our learnings on how to drive impact in shorter formats."
With smartphone video the fastest growing ad format in the UK in 2017, growing 69% to £1.17bn, according to the IAB, it has never been more important for brands to make sure mobile video ads are delivering results.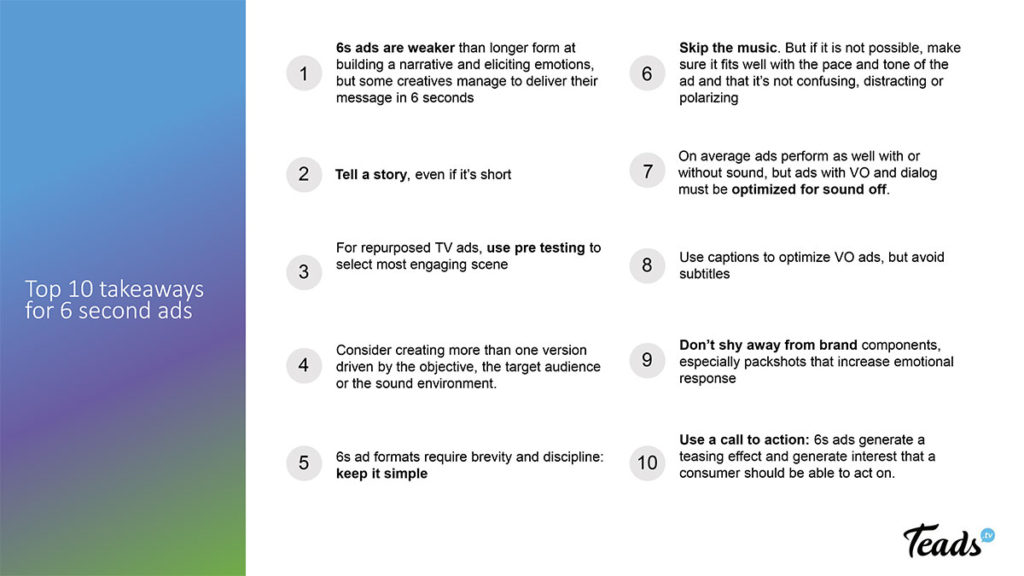 Key findings from the study include:
Six-second ads are weaker than longer form ads are at building a narrative and eliciting emotions, but some creatives do manage to deliver their message in 6 seconds.
For repurposed TV ads, use pre-testing to select most engaging scene from a TV spot. If the story is too complex to condense or a joke that requires a setup, brands might consider keeping it longer form, or using a display format in order to tell a more descriptive story so as not to leave users confused.
Call to action is vital – Just 16% of six-second ad creatives we tested included a call to action –  a key driver of engagement when time is short.
Caroline Hugonenc, Global VP Research and Insights, Teads, said "With mobile now the dominant device in our lives, marketers know that 30 second TV spots will no longer cut it for engaging video ads on the small screen. However, what this research reveals is that simply making an ad shorter won't necessarily guarantee performance if the emotional connection is lost. We launched Teads Creative Lab to help brands and advertisers understand exactly how their creatives are performing, and provide technology to optimise them for the small screen, with the right impact."
Source: Teads