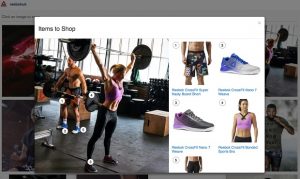 Reebok is making social lifestyle content shoppable for the first time, as it looks to hone the ideal customer journey.
The global fitness brand has appointed marketing technology company Curalate to make its social media channels fully shoppable, creating a seamless experience for consumers from the moment of discovery to the point of purchase.
Beginning with Instagram, consumers who see images and videos featuring athletes using Reebok products on the brand's social channels will now be able to learn more about different ranges and easily buy the products in those posts. This is part of a broader strategy on Reebok's part to accommodate the growing number of consumers who discover products and shop online through social channels.
"Our brand digital focus is to be relevant to existing and future customers, as a large part of our audience is active on social media," said Mark Allin, Senior Digital Manager at Reebok. "Reebok's online content celebrates fitness communities. We'll feature our products in content captured during genuine workouts, rather than simply product shots. This way people are clear as to what our position is in fitness, and can then explore options to purchase. This approach provides a clearer and more consistent message to the user, one considered journey."
Reebok will enhance overall customer experience with the new technology, and be able to attribute ROI from branded content and social activity that leads to ecommerce sales, in line with paid digital media channels.
Allin continued: "It's helping us create a clearer picture of what Reebok's ideal consumer journey is, while our ecommerce team will benefit directly from the brand work that's taking place."
Reebok, part of adidas, also plans to integrate shoppable lifestyle content into online advertising campaigns.
"Reebok is creating a thoughtful shopping experience centered on discovery," said Apu Gupta, CEO and co-founder of Curalate. "Consumers are increasingly finding products through the images and videos that brands post to their social media channels. Curalate makes it easier for those consumers to explore, and ultimately buy the products they stumble upon as they scroll."
Reebok is planning to commercially optimise events to work with Curalate's technology. The brand will be promoting a new footwear range in September as part of its partnership with Ragnar Relay, a 170 mile team relay race. Footage of each team will be promoted on Reebok's social channels in near-real time, with fitness kit and trainers made shoppable.
Source: Net Imperative