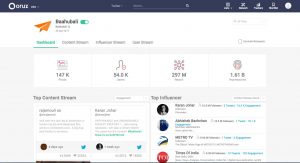 Qoruz, one of India's leading influencer marketing intelligence platform, has announced the launch of its social campaign tracker. Focused on measuring user and influencer generated content and conversations during a brand campaign, this unique tracker helps brands monitor social media platforms for earned media content for specific keywords and 'hashtags'. It also enables marketers discover top social influencers creating content that carries a mention of their brands, and understand the total social reach and engagement generated via these earned media content pieces.
Qoruz tracker simplifies the whole process of monitoring and measuring earned media content. Brands can set up custom trackers around specific keywords and hashtags and monitor historic and real-time content posted by influencers and other audience as well.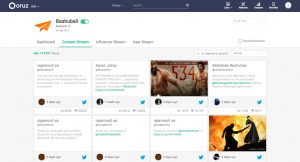 The A.I. enabled dashboard classifies and segregates influencers and normal social media audience into separate streams, that helps brands easily identify which content creators they should be focusing on in terms of nurturing and collaboration, and provides a range of important social media metrics for each influencer .Users can also track competitor keywords and benchmark how their competition is faring in terms of earned conversations. This helps them understand what content is working, which influencers are proving to be most helpful for the brand, and then act upon this information.
Speaking about the launch, Prabakaran, Chief Technical Officer of Qoruz, said, "The plan is to expand the capabilities of the tracker and help brand monitor its social health 24X7, 365 days a year. We plan to bring in more useful analytical features like sentiment analysis, brand's influence, authority, integrated competition benchmarking and more. We will also build upon the intelligence of the platform in terms of predicting what type of content will work for the brands, based on a deep-data analysis of the successful content. The endgame is to build a holistic earned media content monitoring, analysis, and inspiring tool."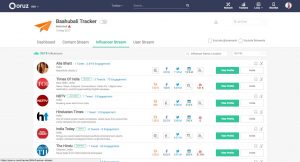 Varun Tyagi, Product Manager for Qoruz, added, "Various research studies have proven that peer generated brand content is much more influential when it comes to purchasing considerations than brand's own content. In terms of analyzing social media performance, most brands are still focused on how well their social handles are doing, but only a few are measuring influencer-generated content and its impact, and that's where the true social influencer lies.This is where Qoruz tracker comes into play."
The social media campaign tracker is available as a part of the Qoruz suite as well as a standalone tool. Subscription for the standalone version starts at INR 40,000 a month (for tracking approximately 1,00,000 conversations).
Source: Qoruz